The universal measuring module Q.series A121 is designed for measurements of voltage, current, Pt100 sensors, NTC resistors, IEPE sensors as well as strain gauge half and quarter bridges. This means that in addition to the typical charging and discharging tests, the shock, vibration and stress tests can also be carried out successfully.
The module has 2 galvanically isolated inputs, which are isolated to each other, to the voltage supply and the interface with an isolation voltage of 1200 VDC. A measuring rate of 100 kHz per channel is very suitable for recording signals in case of shock test without signal losses.
The high-voltage modules of the Q.series can be combined with all Q.series modules and controllers. They are preferred by many system integrators and are already successfully used by many users.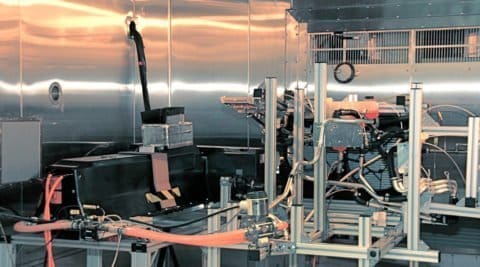 For example, Daimler AG, Deutsche Accumotive, VOLVO Cars, Renault Battery Lab, General Motors Battery Lab, Tesla, Schaeffler Group, ZF Friedrichshafen and Bosch Battery Solutions. But also testing institutes such as TUEV Sued relies on the products of Gantner Instruments.