The Q.station X is an intelligent controller that can be combined with Q.series XL modules to form custom Localbus DAQ systems. The Q.station X Controller and Q.series XL measurement modules are designed for industrial and experimental testing. Q.series XL products are exceptionally well suited for performing highly synchronized, multi-channel measurements of electrical, mechanical, and thermal signals on engine and component test benches and long-term process monitoring applications.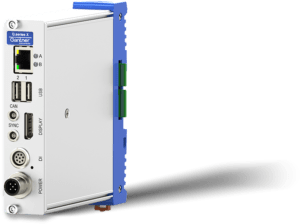 What does Q.station X do?
The Q.station X connects up to 64 I/O modules for reliable 24/7 operation. Create up to 20 independent, PC-less multifrequency data loggers up to 100 kS/s while measuring up to 100 kHz per channel and utilizing powerful arithmetic functions. Fieldbus interfaces for CAN, Modbus TCP/IP, Modbus RTU, PROFIBUS, PROFINET, and support for publish/subscribe and messaging protocols, e.g., OPC UA, DDS, and MQTT and custom controller plugins for customer-specific communication protocols.
Features
For computer-independent data logging
Up to 64 I/O modules connectable
Distribute and Daisy Chain I/O modules or connect directly
Multiple sampling rates
RT Linux operating system for reliable 24/7 operation
CAN bus port
ModbusTCP, Modbus RTU with external adapter, e.g., RS485 to USB
2 USB ports for, e.g., GPS mouse
Time synchronization with NTP, PTP, IRIG
test.con available (XT-version)
Multiple interface options, e.g., OPC UA, DDS, and MQTT

Mixed-Signal, Multi-Frequency Data Buffering
The Q.series X data acquisition system has four internal data buffers that collect, buffer, and distribute data from the I/O modules, Fieldbus, publish-subscribe protocols, and custom plugins. Each data buffer can be configured with a unique sample rate for optimal bandwidth usage to optimize data throughput on the internal bus and the Ethernet network. This avoids low-frequency measurements transmitting through the system at the same frequency as high-speed measurements for mixed-signal data acquisition. For example, the DAQ system can have one data buffer for 10 Hz temperature data, one for 5000 Hz strain data, and one for 50 kHz vibration data.
Efficient Data Stream Processing
Software application for real-time data stream processing
Collect, process, and safely log data to different destinations
Concept is based on shared memory with multiple access points and avoiding redundant data transfer to optimize performance
Process data streams with joins, aggregations, filters, arithmetic calculations, etc.
API to interface with third-party data streams from external measurement & control devices
| | |
| --- | --- |
| Interfaces | Q.station X |
| Ethernet TCP / IP | yes |
| EtherCAT | yes |
| ProfiNet | yes |
| Connectivity | Q.station X |
| Configuration (local or remote) via GI.bench | yes |
| Modem | (Optional external device) |
| GI.cloud connection | yes |
| Data Logging / Control | Q.station X |
| Sampling rate | Up to 100 kHz / 4 MHz with Q.boost A101 |
| Continuous Logging | yes |
| Event-based Logging | yes |
| Triggered Logging | yes |
| # of data loggers with arithmetics / filters | 20 |
| Data Storage | Q.station X |
| RAM [MB] / Flash [MB] | 500 / 4000 |
| SD card | yes |
| USB Expandable | 2 slots |
| DAQ Modules | Q.station X |
| Number of DAQ modules | Connect up to 64 Q.series X modules |
| Digital inputs and outputs | 6 inputs / 4 outputs |
| Analog input | - |
| Programming | Q.station X |
| Programmable edge computing (Real-time) | yes |
| Programmable edge computing (Non Real-time) | yes |
| Can install apps (external) | yes |
| Display with touch (optional) | yes |
| Typical power consumption [W] | < 12 |
Specialized Q.station X Variants
The Q.station X PN is an intelligent controller with a built-in extension slot with communication interfaces for Profinet IO.
The Q.station X SSD is an intelligent controller with an extension slot with a built-in 1 TB Solid State Drive (SSD) for internal measurement data storage.
The Q.station X ETH is an intelligent controller that includes an extension slot for an additional 1 GBit RJ-45 Ethernet interface for operation in two independent networks.
Need help deciding which Q.station X is best for you?
Are you interested in the Q.station X controller but don't know which variant is best for you? Our engineers can quickly help you personalize a DAQ system around your needs.
Do you need test.con (XT-version)?
If you require the use of test.con, then you would need to use a Q.station XT controller. If you do NOT require test.con, then you would use the Q.station XB controller.
test.con is used to graphically program application-specific math functions, logic, and embedded HMI screens via a PC and then compiles and runs them on the Q.station XT controller. Programming in test.con is simple: drag the desired functions from an extensive library onto the worksheet and 'wire' the functions in the correct sequence – no code is required. You can also create macros consisting of multiple functions to improve clarity and simplify more complex routines.

The integrated Mask Designer in test.con allows you to create a touch-screen HMI for an external display (connected to a Q.station XT) or a network-connected PC. By mapping the display and control functions for the attached controller's variables, one can create a very powerful data logging, automation, and HMI display system that runs completely on the connected controller — without the need for a tethered PC or any additional external software packages.
test.con Studio is a free programming system that you can install on any number of computers. Licensing of software is not required. test.con Studio runs on all designated controllers, such as the Q.station XT.
Find more information
Installation and initial steps
Documentation
Forum Community
Want to explore Q.series XL modules for Q.station X?
Search for exactly what you need using our simple-to-use product finder.
DAQ SERIES
DAQ Interface
Form Factor