Electric Vehicle
and Battery Testing
High voltage testing and measurement refer to measuring the electrical properties of a device or system that operates at high voltage levels, such as voltage, current, power, and insulation resistance, as well as other electrical parameters.

High voltage testing is important in designing, developing, and producing high-voltage equipment and systems, such as electric power transmission and distribution systems, high-voltage electric motors and generators, and high-voltage components for electric vehicles. The tests are done to ensure that the equipment can operate safely and reliably under the high voltage and power levels it will be exposed to in service.
Typical High-Voltage Tests
There are several high-voltage tests, each with its specific purpose and method. Some examples include:
AC dielectric tests measure the ability of a material or device to withstand high AC voltage without breaking down.
DC dielectric tests measure the ability of a material or device to withstand high DC voltage without breaking down.
Impulse voltage tests measure the ability of a material or device to withstand high-voltage transients, such as lightning strikes.
Partial discharge tests measure the amount of electrical discharge within a material or device.
It is important to use proper techniques, personnel, and equipment when conducting these tests,
as high voltage poses a serious risk of electric shock, injury, and death; For this reason, only qualified and trained engineers and technicians should be responsible for performing high-voltage tests.
What is EV and Battery Testing?
Electric vehicle (EV) and battery testing is the process of testing the performance, durability, and safety of the various components and systems of an electric vehicle, with a focus on the battery and its associated systems. This can include testing of the battery cells, modules, and packs, as well as the vehicle's electric drivetrain, charging systems, and power electronics.
For all-electric vehicles (EVs) and hybrid electric vehicles (HEVs), a high-voltage bus, also known as the DC link, is a key component of the electric powertrain. It connects the battery pack, which stores the energy, to the inverter, which converts the DC power from the battery into AC power that drives the electric motor. 
Most components are bidirectional, allowing for propulsion and regenerative braking.  During propulsion, the inverter converts the DC power from the battery into AC power to drive the electric motor, which propels the vehicle forward. During regenerative braking, the electric motor acts as a generator, converting the vehicle's kinetic energy into electrical energy that is then sent back through the inverter and used to charge the battery.
The goal of EV and battery testing is to ensure that the vehicle and its components meet the safety and performance standards set by industry organizations and governments, and to identify any areas where improvements can be made.
High-Isolation up to 1200 VDC

channel to channel
channel to power supply
channel to interface

See Q.series X DAQ modules: A121, A123, A124, A127, A128
Up to 4 MHz per channel triggered or continuously
4 inputs for voltage and current
10 VDC or 1000 VAC range
Three phase power analysis
Optional Inputs: IEPE/ICP, Piezo, Pulse/Counter
Up to 100 kHz per channel
Inputs for: voltage, current, thermocouple, Pt100, NTC, IEPE/ICP, full and half-bridge strain gage, and optical sensors
See Q.series X DAQ modules: A121, A123, A124, A127, A128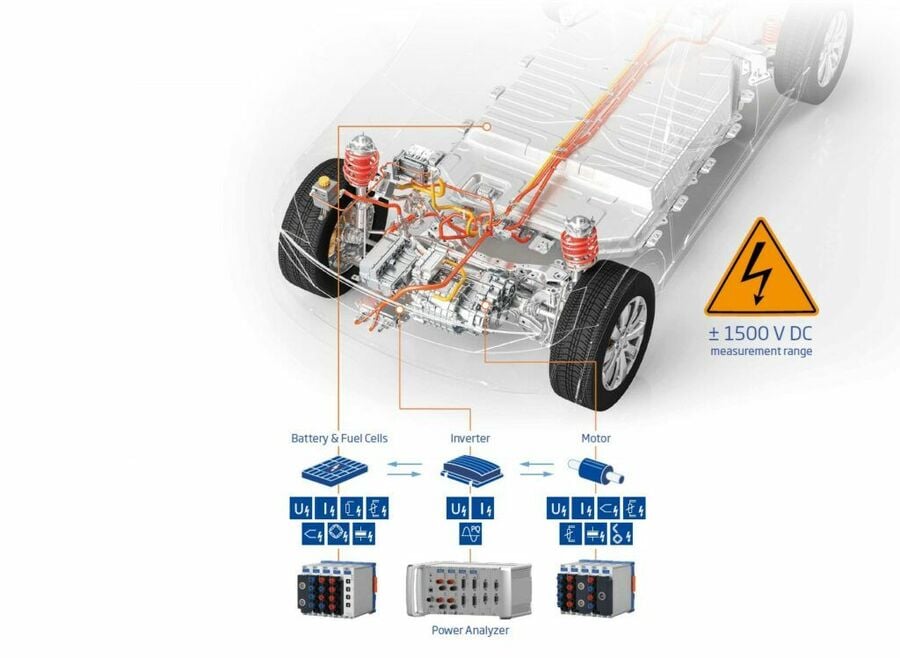 Where is High-Voltage Test & Measurement used?
Gantner Instruments provides High-Voltage Testing solutions for all battery development and qualification steps, including: 
Charge/discharge cycle testing
Determine the number of times a battery can be used by evaluating it until it deteriorates after repeated charging and discharging charges.
Battery Model development
SoC, SoH determination and prediction, constant discharge testing, Charge/Discharge rate and efficiency
Safety (abuse) testing
Simulate a wide range of environmental conditions and battery failure scenarios to determine the conditions for battery failure.
Performance testing
Demonstrate the efficiency of batteries. Our experts can customize testing programs to suit specific customer requirements, such as performance testing under various climatic conditions.
Environmental and thermal testing
Demonstrate the quality and reliability of your battery. Our tests include vibration, shock, EMC, thermal cycling, corrosion, dust, salt, and humidity.
Transport testing
Ensure your batteries can be transported safely. We conduct tests for the United Nations requirements (UN 38.3) for the safe transportation of batteries, modules, and cells.
Impedance spectroscopy for Battery R&D and Production
Analyze capacity, cycling lifetime, shelf life, current carrying capacity, low-temp performance, and impedance of materials synchronously with other measurements, e.g., temp, strain gages, etc.
MHz DAQ and Power Analysis for EV and Battery Testing
As electric vehicle (EV) and battery technologies rapidly advance, the need for sophisticated testing solutions becomes paramount. One key aspect of this testing is the use of high-performance data acquisition (DAQ) systems and power analyzers with MHz sampling rates and exceptional power analysis capabilities. These advanced tools are essential to ensuring the efficiency, reliability, and safety of next-generation EV and battery systems.
The Importance of MHz Sampling Rates and High-Quality Power Analysis:
Precise Measurement and Analysis
With the growing complexity of modern EV and battery systems and the use of higher switching frequencies, it's crucial to have a high-speed data acquisition system that accurately measures and analyzes voltage and current signals in pulse-width modulated systems, such as electric drives. Our Q.boost Power Analyzer provides an impressive 4 MHz sampling rate per channel, enabling you to capture intricate details of your system's behavior. This level of precision is essential for understanding system performance, identifying potential issues, and optimizing efficiency and reliability.
Superior Noise Performance
A low-noise floor is critical for obtaining precise results in power analysis, as it ensures that the measurements are not influenced by external factors. The Q.boost Power Analyzer boasts a noise floor below -140dB, 34dB better than the competition, ensuring you get the most accurate measurements even in challenging testing environments. This superior noise performance allows you to trust the data you collect, make informed decisions about system design and improvements, and reduce the risk of undetected issues that could impact performance or safety.
Unparalleled Total Harmonic Distortion
Total harmonic distortion (THD) is a key parameter in evaluating the quality of power in EV and battery systems. High THD levels can lead to issues such as reduced efficiency, increased component stress, and potential system instability. The Q.boost Power Analyzer offers less than 3 ppm THD, 100x better than any other device on the market, allowing you to identify and resolve issues related to power quality and efficiency. By effectively monitoring and minimizing THD, you can extend the lifespan of your EV and battery systems, reduce maintenance costs, and enhance overall system performance.
Comprehensive Power Analysis Capabilities
The Q.boost Power Analyzer not only excels in MHz sampling rates, noise performance, and THD but also provides a comprehensive suite of power analysis features. With the ability to calculate values like power, power factor, and total-harmonic distortion, the analyzer enables a complete assessment of your EV and battery system's performance. These insights can be used to optimize system design, streamline testing processes, and ensure the highest level of safety and reliability.
The Q.boost Power Analyzer includes four high-voltage input channels (up to +/-1500 VDC) and four inputs for current transducers, as well as a built-in bipolar power supply system, eliminating the need for additional power supply systems and wiring. The analyzer also offers interfaces for current transducers with voltage output or for shunts.
Available in both portable (Q.brixx) and 19" rack (4U) variants, the Q.boost Power Analyzer works seamlessly with the GI.bench software on your Windows computer or the Linux-based Q.core controller. The Q.core allows calculated values such as power, power factor, and THD to be transmitted via CAN Bus to an automation system (with EtherCAT Interface coming soon). The raw voltage and current values are always accessible through our open API. Additionally, the system provides two inputs for frequency measurement, making it easy to connect torque sensors with frequency outputs, and two counter inputs for speed sensors (tachometers).
Step into the exciting world of Electric Vehicles (EVs) as we reveal the impressive capabilities of the Q.boost Power Analyzer from Gantner Instruments.
This user-friendly guide gives you a peek into its advanced features, what makes it special, and how it stands out in EV powertrain testing and power quality measurement. Unique features like a super-fast sampling rate, a wide bandwidth, and very low noise level make the Q.boost really shine.
We'll also show you how to use the Q.boost Power Analyzer in real-life scenarios. We'll explain its flexible inputs, its own power supply system, and its precision in measuring power quality. This makes testing easier and quicker, making the Q.boost a must-have for all EV engineers and professionals.
Gantner Instruments is dedicated to helping our customers transition smoothly from combustion engine technology to electric vehicles, supporting a sustainable mobility future.
Why Gantner for EV and Battery Testing?
Q.series X, Gantner Instruments' industry-leading data acquisition product line, featuring the Q.boost Power Analyzer, offers a range of high-voltage isolation measurement modules that combine precise and stable signal conditioning with safe electrical isolation up to 5000 VDC peak and 1500 VDC continuously. The range of modules supports various measurement inputs for voltage, current, RTD, thermocouple, IEPE, and strain gauge sensors, with data sampling up to 100 kHz and an impressive 4 MHz sampling rate per channel for the Q.boost Power Analyzer.
Unmatched Isolation and Accuracy
Q.series X and Q.boost Power Analyzer provides superior isolation of 1500 VDC channel-to-channel, channel-to-power supply, and channel-to-interface/bank, ensuring precise and accurate measurements in challenging high-voltage environments.
Modern Connectivity
Easily integrate the Q.series X and Q.boost Power Analyzer into any supervisory control and data acquisition system with easy-to-use APIs, Fieldbus interfaces, and modern publish-subscribe protocols like DDS, iDDS, and OPC UA.
Expert Assistance
Gantner Instruments' specialists are dedicated to providing best-in-class, individualized sales, and technical application support free of cost and without barriers, ensuring you get the most out of your high-voltage test and measurement solutions.
High Noise Immunity and Performance
Q.series X and Q.boost Power Analyzer ensure accurate and reliable measurements in the presence of high levels of electrical noise typically found in industrial environments. Q.boost Power Analyzer boasts a noise floor below -140dB and less than 3 ppm total harmonic distortion.
Intelligent Design
Q.series X DAQ hardware and Q.boost Power Analyzer perform powerful signal conditioning and precise high-speed measurements at the I/O level, saving you money on external hardware costs and reducing points of failure.
Future Proof
Gantner Instruments ensures all product generations are upward compatible and extendable with our latest products and lifetime calibration support, making our high-voltage test and measurement solutions a lasting investment.
Gantner's cutting-edge DAQ technology is trusted globally for applications in the mobility, aerospace, civil engineering, and energy sectors. Choose from the following industry examples to discover the most versatile DAQ on the market.
Who trusts Gantner for High-Voltage Test & Measurement?
Leading manufacturers and testing laboratories, such as Bosch Battery Systems, GM and TÜV SÜD, use solutions based on the Q.series X. 
Want an easy way to explore HV Q.series X modules?
DAQ SERIES
DAQ Interface
Form Factor