for Monitoring Applications
Q.monixx is a new addition to the Q.series product family – the ideal edge computing and data logging solution for reliable process control and asset monitoring. The standard I/O configuration for the Q.monixx includes up to eight universal analog inputs, eight digital inputs, four digital outputs, two relay outputs, and eight serial channels for communication. Also included are four data loggers for parallel data acquisition to either local storage or a GI.cloud storage solution for easy accessibility, additional analytics, and detailed diagnostics. You can also host third-party apps on the device.
Edge computing is a distributed information technology (IT) architecture in which measurement data is processed and analyzed as close to the originating data source as possible, reducing overall data transfer and storage requirements, especially in big data applications. This is ideally performed by edge devices that compute and store at the same location as the data source on the network edge.
An edge device is any hardware that controls data flow and processing at the boundary between two networks, like a local network and the cloud. Edge devices play a key role in bringing computation and data storage closer to the devices that generate and consume the data. This allows data to be processed and analyzed in real time, improving the efficiency and speed of the system.
How does Q.monixx compare with Q.station X?
Good question. Both controllers are Edge Devices for High-Performance Monitoring and Control, Remote Configuration, and Universal Connectivity, converting raw data to preprocessed information for efficient storage, enrichment, and analytics.
High-performance Controller
Q.station X is a high-performance data acquisition controller and edge computing device that provides accurate and reliable synchronization of high-speed measurement data and redundant data logging. It offers an optional full-featured programmable environment, for sophisticated automation, control, and parallel communication over TCP/IP, CAN, ProfiNet, Modbus, and EtherCAT.
Do you need a Q.station X?
Select from a variety of Q.station X controllers differing in scalability, performance, additional interfaces, additional internal storage, PLC programmability, and physical size.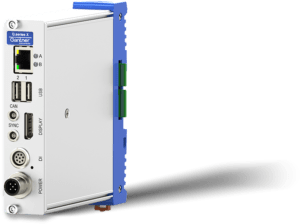 How does Q.monixx benefit from GI.bench?
Access, store and handle your edge device data with high-performance interfaces on GI proprietary platforms or any industrial third-party system using GI.bench's connectivity. GI.connectivity fully integrates data storage, security, configuration, authentication, and update management from the sensor interface to the data lake. Customers can acquire data on their devices, desktops, or the cloud, while APIs and microservices permit full scalability and flexibility for data processing via third-party, GI.bench, and GI.cloud solutions. Multiple combinations are possible if data or control flows need to be aggregated from numerous edge devices.
Find out more about the power of GI.connectivity:
Simple Graphical Programming for Edge Computing Devices
The complete measuring, signal conditioning, data management, control, visualization, and operation tool for your edge-computing controller. test.con Studio allows graphical programming of application-specific functionalities, which run on the edge in real-time.
test.con Studio is a free programming system that you can install on any number of computers. Licensing of software is not required. test.con Studio runs on all designated controllers, such as the Q.monixx.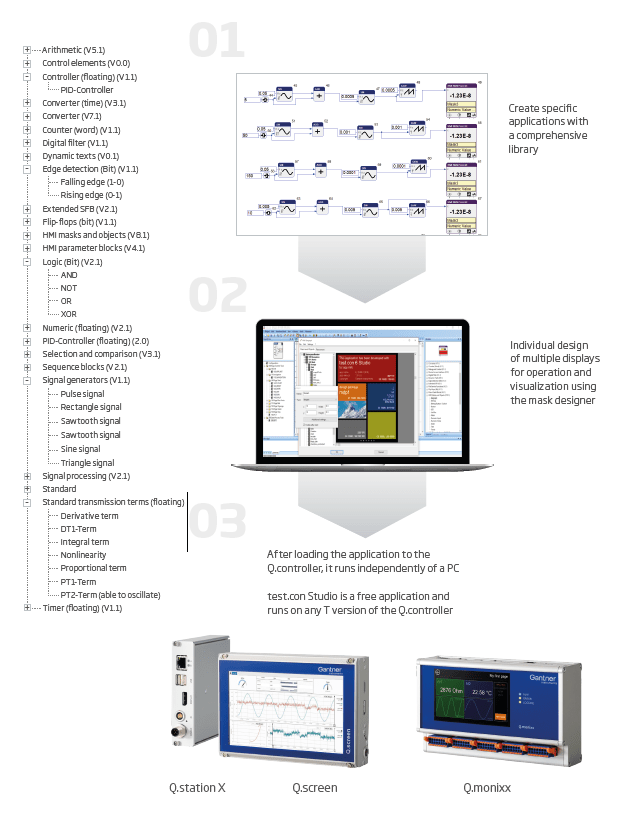 How can test.con be used?
Curve Generator
Test and simulate different signal setups (e.g., Type K, PT100, NTC) in real-time.
Statistical and engineering calculations
Perform statistical and engineering calculations in real time on the module level.
Designing HMI pages
Create your touch-screen HMI display and variable control functions.
Flow control
Design and control your powerful measurement and data-logging automation system.
Find out more about how test.con can benefit you:
Want to explore Q.series X products compatible with Q.monixx?
Search for exactly what you need using our simple-to-use product finder.
DAQ SERIES
DAQ Interface
Form Factor