Q.series XE Bus Coupler for EtherCat
Introducing the Q.series XE Bus Coupler
The Q.series XE Bus Coupler connects Q.series XE measurement modules designed for industrial and experimental testing to EtherCAT networks. Q.series XE products are exceptionally well suited for performing highly synchronized, multi-channel electrical, mechanical, and thermal signals measurements on engine and component test rigs and long-term process monitoring applications in EtherCAT networks. 
Individual Q.series XE modules are combined with the Q.series XE Bus Coupler to form a custom EtherCAT data acquisition system as needed. You can connect up to 10 modules as independent EtherCAT slaves per bus coupler to an EtherCAT master. For all measurement modules, the power supply, bus interface, and I/O (analog and digital) are all electrically isolated from each other.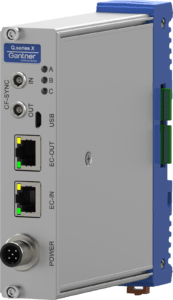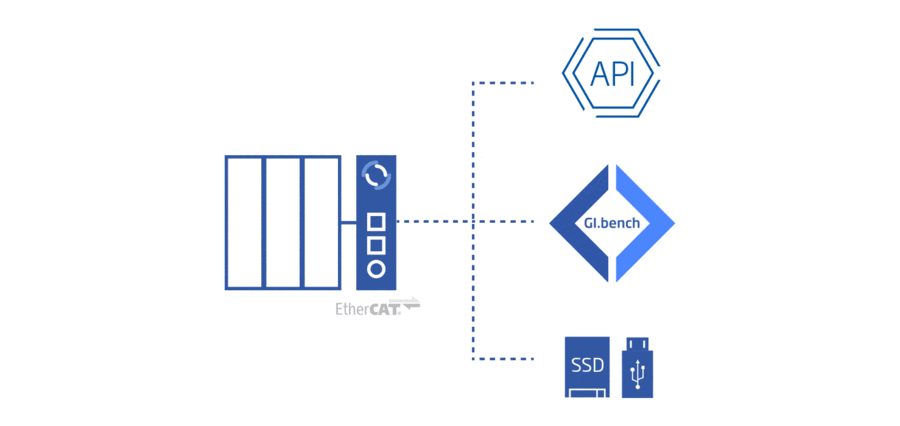 Functions of the Q.series XE Bus Coupler
You can use the Q.series XE-BC as an EtherCAT slave, connect up to 10 Q.series XE measurement modules for up to 10 kHz real read and write and leverage full EtherCAT functionality like XFC and configuration via standard EC masters like TwinCAT or KPA. EtherCAT is a real-time Ethernet and a disclosed protocol in the IEC standard IEC61158. It suits hard and soft real-time environments within measurement and automation technology. Short cycle times (≤ 100 μs) and low jitter for exact synchronization (≤ 1 μs) characterize the interface.


Full-range of Q.series X I/O modules available as XE versions
Available in Q.bloxx, Q.brixx, and Q.raxx form factors
Pre-engineered onboard signal condition
ET1100 EtherCAT slave controller that is fully compliant with the
EtherCAT slave implementation standard ETG.2200
Distributed Clock for  precise data synchronization
XFC oversampling for data rates up to 100 kS/s
One bus coupler connects up to 10 I/O modules to the network
Drop-in replacement for Beckhoff industrial I/O
Flexible EtherCAT Network Architecture
Depending on the complexity of the application, user needs, and total cost of ownership, two different architectures should be considered. Gantner Instruments' Q.series XE range of I/O modules are EtherCAT slave devices for maximum flexibility and customization. Alternatively, the Q.series XL range of I/O modules can be used as a standalone DAQ System with a controller that provides parallel communication to the EtherCAT network while benefiting from pre-engineered data acquisition functionality.


The Q.station X EC and Q.series XE BC (bus coupler) head modules are interchangeable to easily reconfigure an XL system into an XE system and vice versa.
Require a different firmware loaded on the I/O modules to adjust bus communication
Can be done on-site and "In situ"; no need to return the system to Gantner Instruments
Contact your local Gantner Instruments office to learn more about the advantages and disadvantages of each solution for your situation.

Compare to Q.station X EC Functionality
For EtherCAT networks, you can utilize the additional functionality of a Q.station X controller and its included Fieldbus EtherCAT interface instead of a bus coupler. These Controllers can bundle data from their connected modules. To an EtherCAT master, these Controllers appear as EtherCAT bus slave devices with various inputs and outputs. This setup can satisfy two or more applications simultaneously without restricted EtherCAT functionality by connecting up to 64 modules per controller and integrating several controllers within an EtherCAT network.
Add a Q.station X to an EtherCAT network for:
Computer-independent data logging
Up to 64 I/O modules connectable
Multiple (or higher) sampling rates
RT Linux operating system for reliable 24/7 operation
CAN bus port (CAN-FD with external adapter)
ModbusTCP, Modbus RTU with external adapter, e.g., RS485 to USB
2 USB ports for, e.g., GPS mouse
Time synchronization with NTP, PTP, IRIG
test.con available (XT-version)
Multiple interface options, e.g., OPC UA, DDS, and MQTT
If you need Q.station X functionality in an EtherCAT network, you may be interested in the Q.station X EC.
Q.station X with an extension for EtherCAT
Footprint: Double-slot
Acts as an EtherCAT slave
Q.station functionality, e.g., local data logging/evaluation
Configurable with standard EC masters like TwinCAT or KPA
253 variable read/write with 100Mbps
Cycle time 100µS
Isolation voltage of RJ45 Interfaces: 500V DC
Available in T-version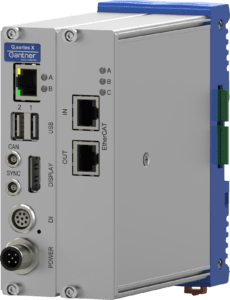 Explore Q.series X modules for EtherCAT with ease
Search for exactly what you need using our simple-to-use product finder.
DAQ SERIES
DAQ Interface
Form Factor