slimline: High-channel density in a 1U rack
The slimline form factor is Gantner Instruments' 19″ 1U rack solution – perfect for applications that require high channel density. Multiple slimline systems can be synchronized for maximum scalability and efficient DAQ distribution. This provides all users with the capability to expand upon existing Gantner DAQ infrastructures seamlessly for up to thousands of channels, all with high accuracy measurements and a maximum jitter of less than 1 microsecond.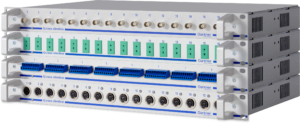 High channel density packaging for a minimal footprint and efficient distribution of DAQ.
Flexible data evaluation and smart data reduction techniques to minimize data overhead. 
Ideal for gradual expansion
Build your DAQ as your needs grow up to thousands of channels with near limitless scalability.
Standard 19" rack form factor
19" 1U is a standardized frame or enclosure for mounting multiple electronic equipment modules.
Simple assembly and setup
Automatic module detection and out-of-the-box time synchronization with less than 1 μs jitter.
Multi-channel Applications
Ideal for large quantities of strain gauges, temperature sensors, or other sensor types.
Explore slimline products with ease
Search for exactly what you need using our simple-to-use product finder.
DAQ SERIES
DAQ Interface
Form Factor