Q.series X: EtherCat INTERFACE
EtherCAT is a fast and efficient Ethernet-based fieldbus system for industrial automation, introduced in 2003 and standardized in 2007. It uses LVDS-based transfer and Distributed Clocks System for synchronization. The nodes read telegrams sent by the master "on-the-fly," and the system provides acyclic protocols for configuration, including CoE and FoE. XFC Technology enables fast cycle times and oversampling of process data. EtherCAT is widely used in various industrial applications due to its efficiency, low implementation costs, and real-time capabilities.
EtherCAT is a communication protocol that enables devices to exchange information in real-time, with a master device sending messages to slave devices that process the data immediately. The Q.series X product line is compatible with EtherCAT and other similar communication protocols, and the Q.series XE I/O modules operate as individual EtherCAT slave devices.
Advantages of Q.series XE
Gantner Instruments' range of I/O modules that operate as individual EtherCAT slave devices is called Q.series XE. The Q.series XE modules take the precision and high performance of Gantner's renowned Q.series X modules and make them available to EtherCAT-based applications.
Similar to regular Q.series X modules, each Q.series XE module is available in different packing options; DIN rail mount (Q.bloxx XE), 19" rack mount (Q.raxx XE) or portable housing (Q.brixx XE). All I/O types are fully supported over EtherCAT, ranging from conventional inputs such as voltage, current, resistance, potentiometer, RTD, thermocouple, and strain gage to more advanced inputs like LVDT, IEPE, piezoelectric, optical fiber, and frequency counters. Also, the full range of I/O modules with 1500 VDC galvanic isolation is available with EtherCAT.
The Q.series XE range of modules comes with sample rates of up to 100 kS/s per input. For high-speed measurement applications over EtherCAT, the modules can be configured for oversampling following the EtherCAT XFC standard.
Q.series XE for EtherCAT
Full-range of Q.series X I/O modules available in XE version
Available in Q.bloxx, Q.brixx, and Q.raxx form factors
Pre-engineered onboard signal condition
ET1100 EtherCAT slave controller that is fully compliant with the EtherCAT slave implementation standard ETG.2200
Distributed Clock for precise data synchronization
XFC oversampling for data rates up to 100 kS/s
One bus coupler connects up to 10 I/O modules to the network
Drop-in replacement for Beckhoff industrial I/O
Benefits of choosing Q.series XE
Q.series XE is the ultimate choice for engineers who require precise synchronization of all nodes in their industrial automation and control systems. Q.series XE provides a wide range of I/O modules, including inputs for voltage, current, resistance, thermocouple, LVDT, IEPE, and more, and outputs for voltage, current, status, frequency, and PWM to meet the demands of any application. With support for the EtherCAT protocol and its own EtherCAT Slave Controller with Distributed Clock, Q.series XE ensures that all nodes are synchronized for simultaneous output setting and input signal capture. The XFC technology allows for high sample rates of up to 100 kS/S, and the GI.bench configuration software with a graphical user interface simplifies setup while the simplified ESI files further streamline configuration.
Q.series XE addresses the three distinctive trends in data acquisition that bring unique challenges to efficient data acquisition via EtherCAT:
Modularity for flexibility and easy scalability to reduce capital investment
High-speed measurement for better data resolution
Faster and more efficient handling of large data streams
All Q.series XE modules come with the ET1100 EtherCAT slave controller that fully complies with the EtherCAT slave implementation and distributed clock technology. The modules have an LVDS physical layer interface that connects via a Q.series XE Bus Coupler to the Ethernet network. One Bus Coupler can address up to 10 I/O modules.

All Q.series XE modules are flexible real-time measuring systems that can be configured:
Read / Write Configuration via SDO
Full access to object dictionary via SDOs
Object dictionary structure per "Modular Device Profile" spec
Device description via ESI file
CoE per "Modular Device Profile" (ETG.5001.1)
Flexible PDO mapping over CoE
File and firmware transfer with File Access over EtherCAT (FoE) (ETG.1000.5)
Configurable PDO mapping for optimized data throughput
Distributed Clock (DC) support for precise time synchronization (ETG.1020.0)
eXtreme Fast Control (XFC) oversampling technology for high-speed measurement (oscilloscope function)
Configuration software with full access to the module's object dictionary, including design rule checks to prevent faulty module configuration


Engineers can use cutting-edge technology to optimize their industrial automation and control systems with Q.series XE. Its precise synchronization and flexible range of I/O modules make it a top choice for those seeking high-quality automation and control solutions. With its support for EtherCAT protocol, EtherCAT Slave Controller, XFC technology, and simplified ESI files, the Q.series XE delivers optimal performance and streamlined configuration, ensuring that engineers can focus on achieving their desired outcomes.
Also, Gantner offers the possibility to connect a dual-mode Q.series X DAQ system to the EtherCAT network as a single EtherCAT slave node. Check out the Q.station X EC. 
Flexible EtherCAT Network Architecture
Depending on the complexity of the application, user needs, and total cost of ownership, two different architectures should be considered. Gantner Instruments' Q.series XE range of I/O modules are EtherCAT slave devices for maximum flexibility and customization. Alternatively, the Q.series XL range of I/O modules can be used as a standalone DAQ System with a controller that provides parallel communication to the EtherCAT network while benefiting from pre-engineered data acquisition functionality.
The Q.station X EC and Q.series XE BC (bus coupler) head modules are interchangeable to easily reconfigure an XL system into an XE system and vice versa.
Require a different firmware loaded on the I/O modules to adjust bus communication
Can be done on-site and "In situ"; no need to return the system to Gantner Instruments

Contact your local Gantner Instruments office to learn more about the advantages and disadvantages of each solution for your situation.
Functionalities of Q.series X EC
The Q.station X EC connects up to 64 I/O modules for reliable 24/7 operation on an EtherCAT network. Create up to 20 independent, PC-less multifrequency data loggers up to 100 kS/s while measuring up to 100 kHz per channel and utilizing powerful arithmetic functions. Fieldbus interfaces for CAN, Modbus TCP/IP, Modbus RTU, PROFIBUS, PROFINET, and support for publish/subscribe and messaging protocols, e.g., OPC UA, DDS, and MQTT and custom controller plugins for customer-specific communication protocols.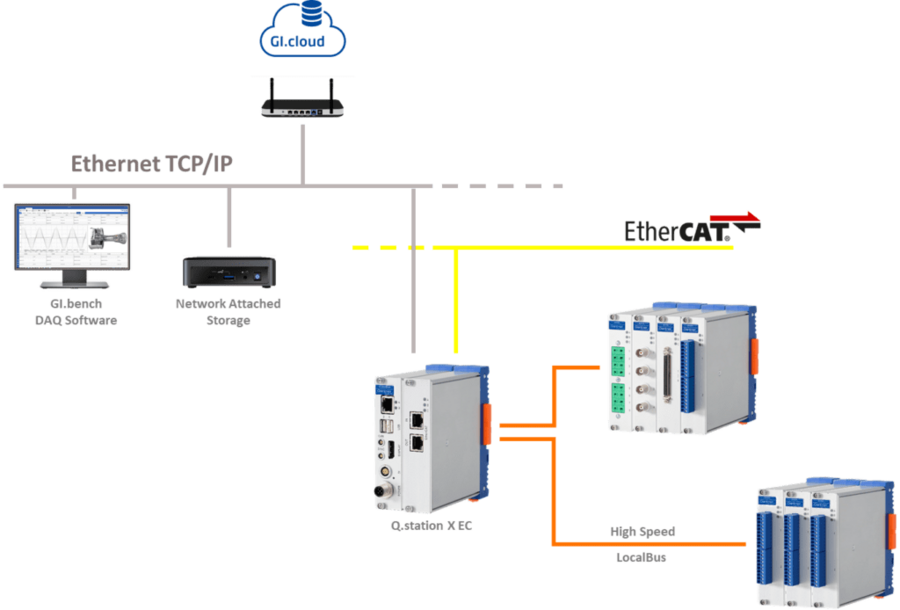 For computer-independent data logging
Up to 64 I/O modules connectable
Distribute and Daisy Chain I/O modules or connect directly
Multiple sampling rates
RT Linux operating system for reliable 24/7 operation
CAN bus port (CAN-FD with external adapter)
ModbusTCP, Modbus RTU with external adapter, e.g., RS485 to USB
2 USB ports for, e.g., GPS mouse
Time synchronization with NTP, PTP, IRIG
test.con available (XT-version)
Multiple interface options, e.g., OPC UA, DDS, and MQTT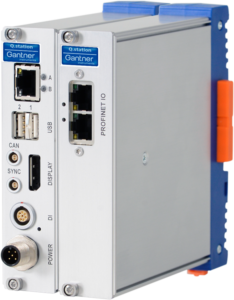 Mixed-Signal, Multi-Frequency Data Buffering
The Q.series X data acquisition system has four internal data buffers that collect, buffer, and distribute data from the I/O modules, Fieldbus, publish-subscribe protocols, and custom plugins. Each data buffer can be configured with a unique sample rate for optimal bandwidth usage to optimize data throughput on the internal bus and the Ethernet network. This avoids low-frequency measurements transmitting through the system at the same frequency as high-speed measurements for mixed-signal data acquisition. For example, the DAQ system can have one data buffer for 10 Hz temperature data, one for 5000 Hz strain data, and one for 50 kHz vibration data.
All Q.series XE measurement modules include an EtherCAT interface allowing for flexible real-time measurement systems. Depending on the connection method, a degree of protection up to IP65 may be achieved for the modules.
Efficient Data Stream Processing
Software application for real-time data stream processing
Collect, process, and safely log data to different destinations
Concept is based on shared memory with multiple access points and avoiding redundant data transfer to optimize performance
Process data streams with joins, aggregations, filters, arithmetic calculations, etc.
API to interface with third-party data streams from external measurement & control devices
Download our EtherCAT Whitepaper now to dive deep into the world of EtherCAT technology, delivering insights into optimizing data acquisition processes, enhancing efficiency, and increasing productivity. Dive into the benefits, practical applications, and case studies that will transform your understanding of this breakthrough protocol.
Form Factors for EtherCAT
Similar to regular Q.series XL modules, each Q.series XE module is available in different packing options; DIN rail mount (Q.bloxx XE), 19" rack mount (Q.raxx XE) or portable housing (Q.brixx XE).
Your state-of-the-art testing lab deserves the best of both worlds!
Download our free case study to read about the new large-bearing test rig at the Fraunhofer Institute of Wind Energy Systems (IWES) that was designed and installed by engineering consultancy firm IDOM using an EtherCAT-based data acquisition system from Gantner Instruments.
Explore Q.series XE Products with Ease
Search for exactly what you need using our simple-to-use product finder.
DAQ SERIES
DAQ Interface
Form Factor