Test and Measurement Technology. Designed for You.
Gantner Instruments is a global leader in the development of high precision measurement and control systems. Founded in 1982, Gantner has exceled in delivering products and services in the fields of electrical, mechanical and thermal measurement. We always prioritize flexibility, usability and accessibility.
Our test automation and performance monitoring solutions can be found in many applications around the world, particularly in the automotive, aerospace, civil engineering, and energy industries.
Digital Pioneering – Developing Intelligent Solutions
Are you searching for the data acquisition (DAQ) solution that sets the standard for both usability and innovation? Do you need to process and store increasing amounts of high speed measurement data in optimum quality?
Gantner Instruments offers innovative, state-of-the art DAQ solutions that satisfy even the most demanding applications within test and measurement – precisely,
efficiently and reliably.
Gantner at a Glance
37+ sales offices worldwide
87% of our employees have been with us for over 8 years
More than 1 million measurement channels installed by Gantner customers annually
320,000 measurement modules currently in operation, with mean time between failures (MTBF) rates > 30 years
All product generations are upward compatible, extendable with our latest products and lifetime calibration support
Working Together on the Test and Measurement Technology of the Future
Reliability | Appreciation | Openness
Gantner Instruments is motivated and driven by eagerness, enthusiasm, and belief that every innovation can be continuously improved upon. Join us at Gantner Instruments. Experience an inspiring corporate culture and help us shape the test and measurement solutions of tomorrow.
Our Strategy
Gantner Instruments' ultimate company strategy is to create solutions that generate knowledge from data as a pioneer for new measurement and testing technologies and specialize in providing customers with quality products, services, and solutions for fast, precise, and robust data acquisition, processing, analysis, and storage. We develop innovative solutions that fit our customers' needs and provide reliable, accurate, and cost-effective data acquisition and control solutions. We build strong customer relationships, provide excellent customer service, and continuously improve our products and services. Additionally, we ensure that our solutions are compatible with a wide range of applications and platforms, allowing our customers to integrate our solutions into their systems easily. Gantner Instruments will continue to expand its position as a manufacturer of innovative solutions for data acquisition in the market segment "Test & Measurement" and develop applications in the new market segment "Monitoring & Industrial IoT" while always pursuing new applications and partnerships.
Our Company Culture
Gantner Instruments has a culture of openness and innovation while striving for continuous growth and focusing on profitability and stability. Gantner Instruments provides a platform for employees to come up with ideas and then helps to accelerate and grow those ideas into new business opportunities, encouraging employees to think creatively and develop new ways to expand the company. Gantner Instruments also strives to provide a collaborative environment where employees grow professionally and personally, focusing on teamwork, open communication, and a strong commitment to customer satisfaction, striving to provide the best quality and service for their customers.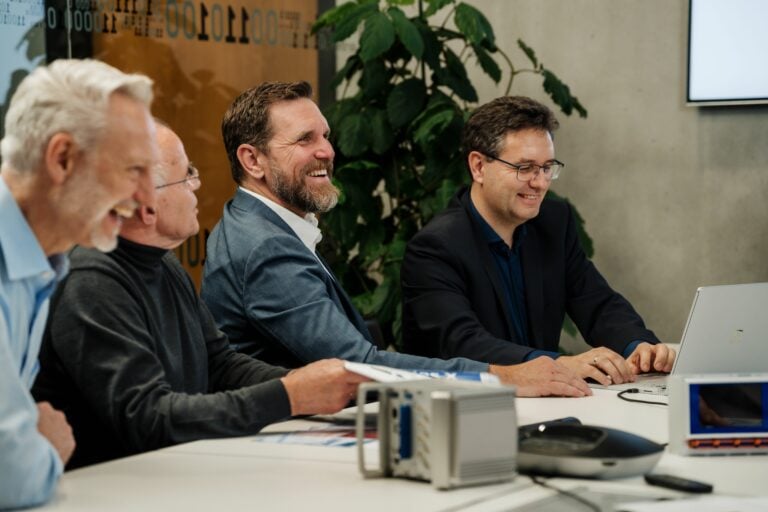 Our Product Timeline – continuous innovation since 1982
Since 1982 Gantner Instruments has provided a wide range of products for distributed measurement and I/O systems for measuring physical
and electrical parameters.
1988 – ISM-01 for Profibus DP
Gantner presented the first measuring module with full-scale Profibus DP compatibility.
2000 – e.series
The traditional e.series product family was distinguished in its time by its clear and easy modular design and various connection possibilities to the wide variety of field devices used in test beds. The e.series was designed for industrial and experimental test systems requiring precise "high-speed" measurement of electrical, thermal, and mechanical quantities in engine and component test beds. Many e.series products are still in use by customers today!
2009 – Q.series
For over ten years, Gantner Instruments' flagship DAQ system has been trusted by engineers, system integrators, and OEMs worldwide. The Q.series Classic is the original modern DAQ flavor Gantner offers, featuring a competitive price-to-performance ratio for multi-channel applications, especially at high density. 
2018 – Q.series X
The NeXt level in performance and technological advancement of the Q.series Classic, 
Q.series X DAQ boasts powerful signal conditioning with flexible interfaces and form factors, higher ADC and data rates, is capable of distributed and daisy chained setups, as well as reconfiguration during operation, and comes with custom connector options.   
Innovative Solutions for Data Acquisition in Test and Measurement Technology
Our solutions are ideal for applications such as collecting physical data to monitor load and stress on bridges, measuring vibration and displacement of railway tracks, testing aircraft structure integrity and engine performance, monitoring energy generation assets (e.g. hydro, wind, solar) and measuring energy stored (e.g. batteries).
"We are an enabler of digitalization in monitoring and control applications. We offer extendable, scalable and distributed solutions. Our global sales and support network provides our customers with advanced solutions, today and into the future."