Remote and
distributed Monitoring
Distributed and synchronized measurement refers to the process of collecting and analyzing data from multiple sensors that are distributed over a large area and are synchronized to a common time reference. Distributed DAQ systems typically have measurement modules installed close to points of measurement reducing cable clutter, and measurements are less prone to noise due to short sensor cables while remaining connected and synchronized to the controller.
Where is Distributed Remote Monitoring used?
Distributed remote monitoring is used in applications such as monitoring the health and performance of distributed systems, monitoring the status of industrial equipment, and monitoring the environment or environment-related systems. Distributed remote monitoring can also be used for predictive maintenance, energy management, and data analysis. This type of monitoring is becoming increasingly important in many industries, as it allows for the efficient and effective monitoring of multiple systems from a single point of access.
Why choose Gantner for Distributed Measurement?
Distributed measuring systems may easily be configured with our Q.series X measurement modules and Q.station X test controller (several versions available). The modules are connected to the test controller via serial RS-485 interfaces with very high data rates. Despite the distributed set-up, measurement is in sync with a maximum jitter of 1μs. The Q.station X test controller provides different interfaces for connecting a PC and automation systems depending on the controller type.
A special advantage of this structure is the simultaneous availability of the measurement data in real-time through a deterministic real-time Interface and the block-by-block transmission of large amounts of the same data over standard Ethernet.
Distributed Monitoring and Control
Q.series X modules provide the perfect solution in installations where multiple signals are widely dispersed and require simultaneous sampling and comparison (less than a microsecond). In the structural testing of bridges and wind turbines, where a deviation of only a few milliseconds in the measurement data can result in significant dynamic analysis errors, this functionality is vital.
Typical variables like strain, acceleration, displacement, tilt or forces are acquired, recorded and converted into characteristic values.
For example, in the bridge application (see figure below), measured values can include traffic load, deflection, misalignment, bearing load or vibration with FFT calculation and damping behavior. This information is processed locally, and the relevant information can be stored and streamed within your IT infrastructure for further decision making.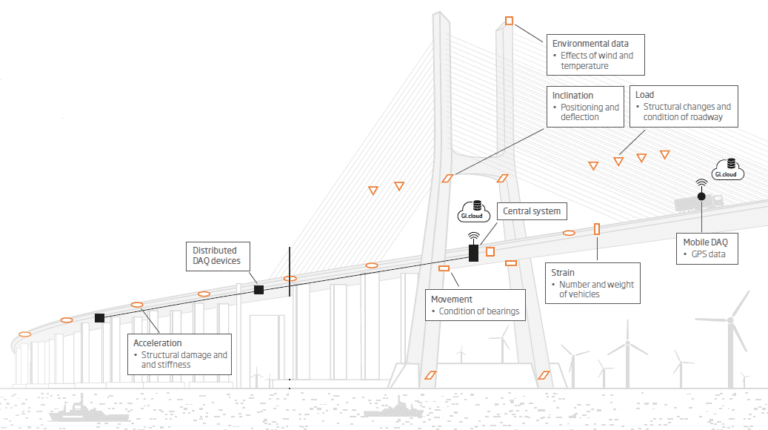 Accurately Synchronize Distributed Measuring Systems
Synchronization of measured data is required if signals have to be correlated. This is important in various structural analysis and testing applications. Depending on the dynamics to be measured, deviations of only a few milliseconds produce measurement errors of up to several percent.
Recording (logging) of measurement data is an everyday task for measuring systems. Especially in the structural monitoring of wind energy plants and buildings, it is useful to reduce data load from the measured quantities to only show the maximum, minimum, mean and standard deviation parallel to the raw data, for example, in 10 minute intervals. The Q.series offers a very convenient solution.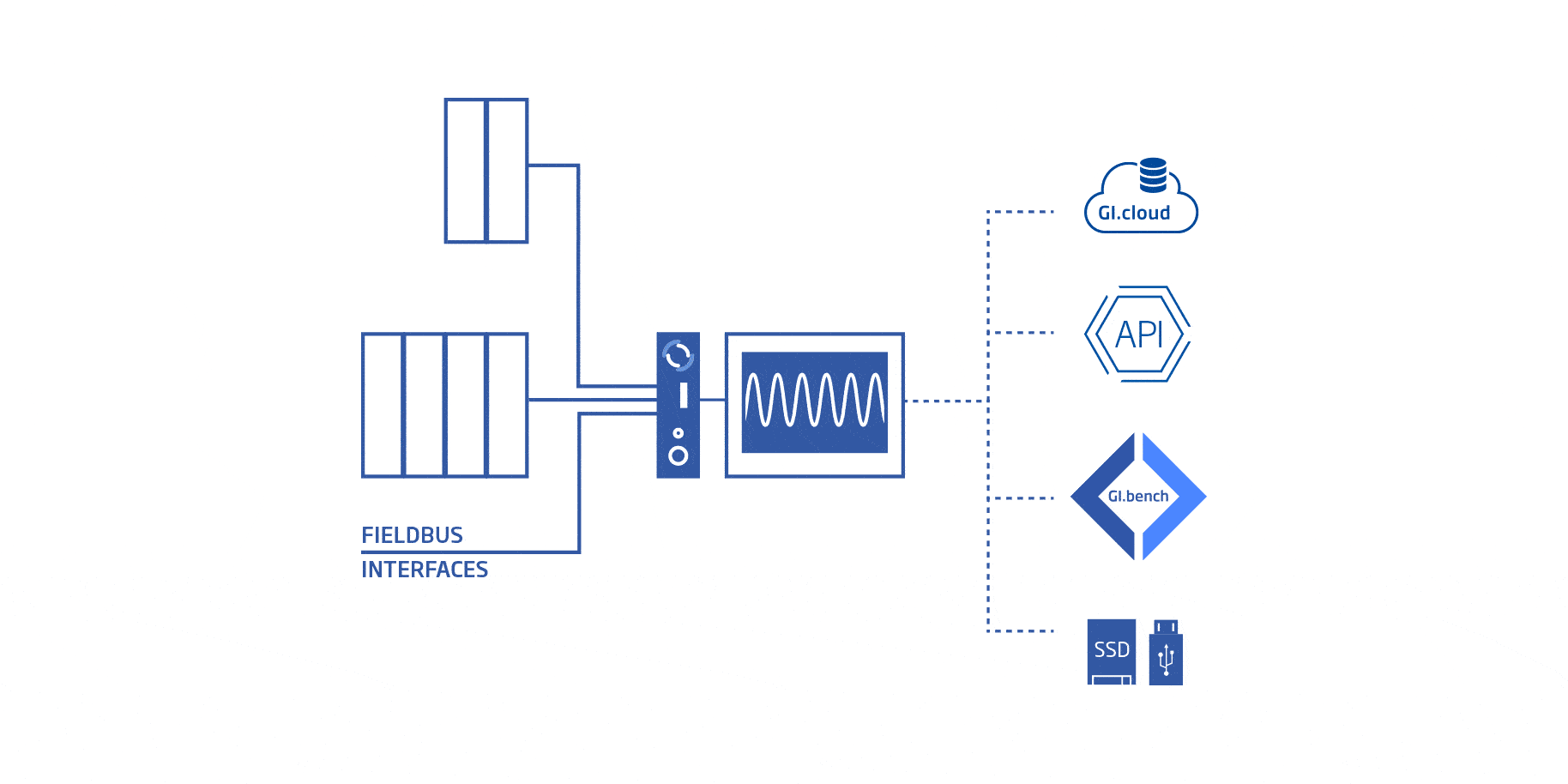 What Gantner products are best for Distributed setups?
The Gantner solution for distributed data acquisition is the form factor bloxx. The DIN-rail Mount design of bloxx provides the most flexibility and the ability to freely mix and distribute measurement modules for the highest in overall system adaptability and expandability.
Distributed system setups
Many topologies are possible for bloxx due to flexibility in distribution.
Less prone to signal noise
Distributed setups with modules close to test subjects reduce sensor cable runs.
Lowest module price
The bloxx form factor for Q.series X is the most affordable price per product available.
DIN rail mountable
System can be mounted to 35mm DIN rail (according to DIN EN 60715).
Reduce sensor cable cost
Setups close to test subjects need less sensor cables per application, saving you money.
Modular design
Mix-and-match Q.series X measurement modules and expand your system as needed.
To learn more about the flexibility of Q.series X and its many form factors:
Software that Connects You
GI.bench is a one-time purchase, subscription-free software suite for quick and easy setup of measurement channels, data loggers, and dashboards. It can process extremely large volumes of data with an adaptive and scalable data backend called GI.cloud.  Our software platform allows teams to monitor dashboards on any computer or mobile device using a web browser without needing additional software. Connect data with third-party applications, promote interoperability, and expand your analysis capabilities using our advanced open API.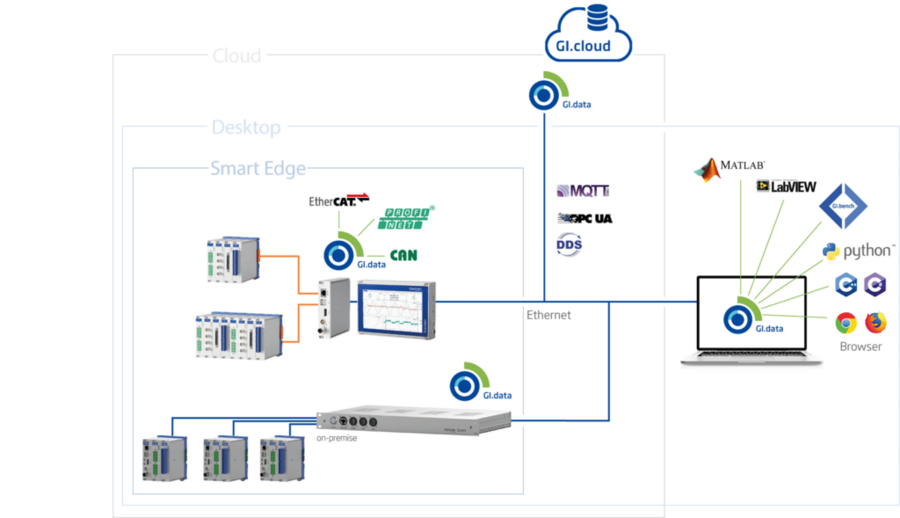 What about Scalable Distributed Measurement?
GI.cloud enables the acquisition and processing of data from distributed measurement devices with a comprehensive user interface and modern APIs. With GI.cloud, you can scale your remote monitoring data platform worldwide.

Real-Time Data Visualization
Controller to cloud platform
Create your dashboards
Show real-time charts (different controllers, merged data streams)
Zoom into a single event (Raw data)
Cockpit: shows device location, status, warnings, and metadata
Device Management
The easy way to support customers – worldwide
Access your controller from GI.bench anywhere, anytime, with GI.cloud remote service
Manage all our devices from one the cloud instance
Show status, data traffic, alerts, and logs – from all remote devices
Only one internet port is needed (https, port: 443, encrypted)
Forget about VPN, additional fees, port discussion with customers IT, …
…and so much more!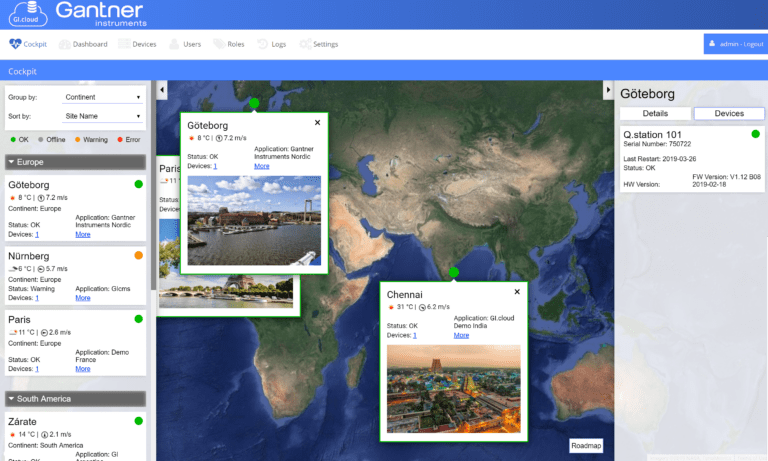 Gantner's cutting-edge DAQ technology is trusted globally for applications in the mobility, aerospace, civil engineering, and energy sectors. Choose from the following industry examples to discover the most versatile DAQ on the market.
Want an easy way to explore Q.series X modules?
DAQ SERIES
DAQ Interface
Form Factor