Q.Series X DAQ Modules for EtherCAT
All Q.series X DAQ systems possess the same measurement capabilities and performance. The main differentiating factor between the XL and XE versions of Q.series X is the Fieldbus communication protocol, which can be interchanged on Q.series X modules using a simple firmware update.
Q.series XE DAQ systems are specialized for EtherCAT (XE) Fieldbus communication. Q.series XE can also incorporate standard Q.station capabilities such as CAN, Modbus TCP/IP, Modbus RTU, PROFIBUS, PROFINET, publish/subscribe, and messaging protocols, e.g., OPC UA, DDS, MQTT, and controller plugins for customer-specific communication protocols.
Dive deeper into EtherCAT

EtherCAT is a real-time Ethernet and a disclosed protocol in the IEC standard IEC61158. It suits hard and soft real-time environments within measurement and automation technology. Short cycle times (≤ 100 μs) and low jitter for exact synchronization (≤ 1 μs) characterize the interface.


Full-range of Q.series X I/O modules available as XE versions
Available in Q.bloxx, Q.brixx, and Q.raxx form factors
Pre-engineered onboard signal condition
ET1100 EtherCAT slave controller that is fully compliant with the
EtherCAT slave implementation standard ETG.2200
Distributed Clock for  precise data synchronization
XFC oversampling for data rates up to 100 kS/s
One bus coupler connects up to 10 I/O modules to the network
Drop-in replacement for Beckhoff industrial I/O
Q.series XE Measuring Modules
Gantner Instruments' range of I/O modules that operate as individual EtherCAT slave devices is called Q.series XE. The Q.series XE modules take the precision and high performance of Gantner's renowned Q.series X modules and make them available to EtherCAT-based applications. All Q.series XE modules come with an ET1100 EtherCAT slave controller (ESC) that fully complies with the EtherCAT slave implementation and distributed clock technology. The modules have an LVDS physical layer interface that connects via a Q.series XE Bus Coupler to the Ethernet network. One Bus Coupler can address up to 10 I/O modules.
All Q.series XE modules are flexible real-time measuring systems that can be configured.
Read / Write Configuration via SDO
CoE per "Modular Device Profile" (ETG.5001.1)
File transfer via FoE (ETG.1000.5)
Configurable PDO mapping for optimized data throughput
Distributed clock for data synchronization (ETG.1020.0)
XFC oversampling technology (oscilloscope function)
Configuration via read/write of SDO or file transfer (FoE)
Select from predefined templates:
Template ±10 V
Template 4…20 mA
Template Pt100 2-wire
Template Pt100 4-wire
Template full bridge
Template half-bridge
TCK template
TCJ template
and more…
What can Q.series XE modules measure?
All electrical, mechanical and thermal parameters can be measured with dedicated Q.series X modules. They can be easily combined and extended. Data streams with different sampling rates can be merged together for efficient post-processing.
Q.series X I/O Signal inputs Design – ANALOG
I/Os for almost all sensor types Strain gage module with DC and CF excitation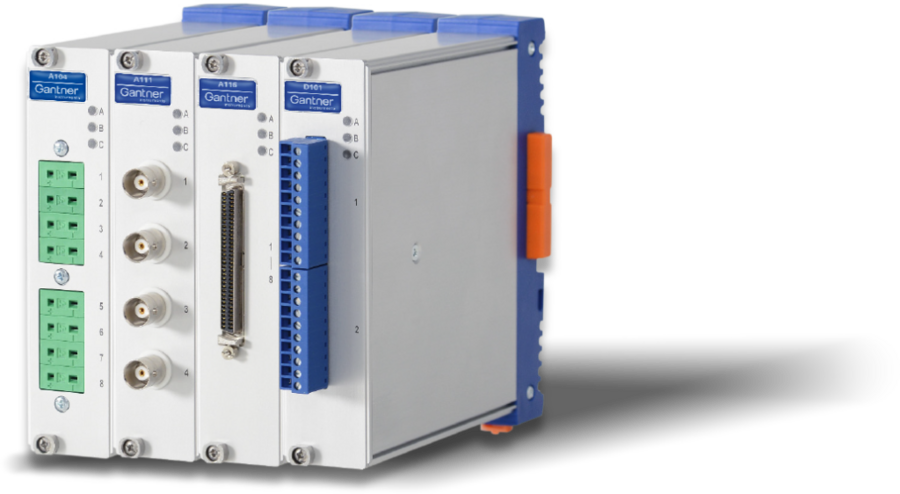 Q.series X I/O Signal inputs Design – DIGITAL
Frequency, PWM: Input and output Specials: Quadrature, up/down counter, missing tooth detection, chronos method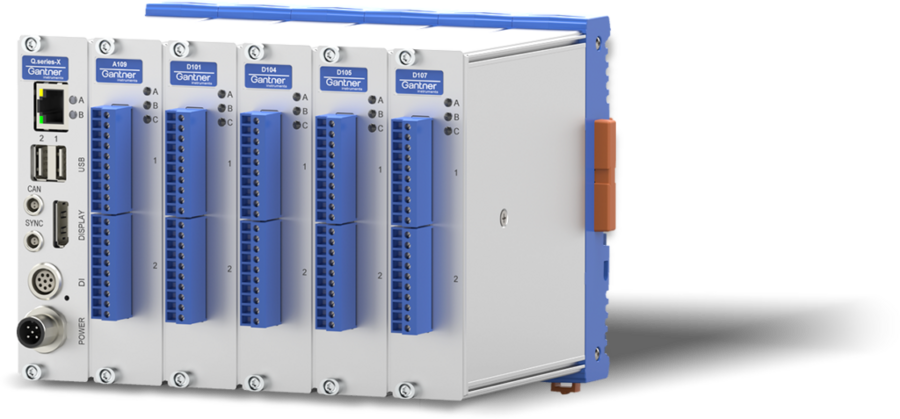 Q.series X I/O Signal inputs Design – HIGH VOLTAGE
Inputs for voltage, current, thermocouples, Pt100, NTC, IEPE, strain gage and much more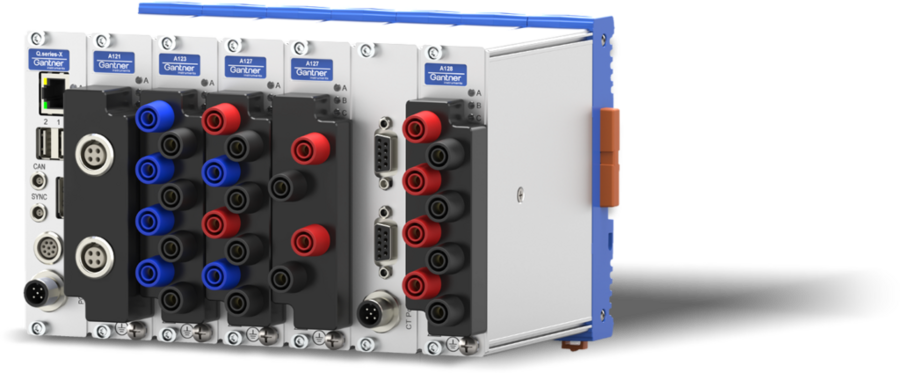 We offer a variety of modular packaging styles. Choose between Distributed and Flexible DIN rail modules (bloxx), Portable and Compact (brixx), or Multi-channel 19" Rack Systems (1U & 3U).
Q.series X measurement module I/O cards and front plates with their connector terminals can be interchanged between the bloxx, brixx, and raxx (3U) form factors, so you can always adapt your system's housing with minimal investment.
Intelligently designed from the inside out, Q.series X DAQ has the adaptability required to solve any modern engineering problem without sacrificing performance. Q.series X I/O modules feature front plates with fully customizable sensor connectors, increasing efficiency and safety for all applications.
Our applications engineers can help you customize your DAQ system to your application's exact needs with special connector options available for any Q.series X measurement module.
Want an easy way to explore Q.series XE products?
Search for exactly what you need using our simple-to-use product finder.
DAQ SERIES
DAQ Interface
Form Factor