We offer a variety of modular packaging styles and the ability to swap between them. Choose between Distributed and Flexible (bloxx), Portable and Compact (brixx), or Multi-channel Measuring Systems (raxx 3U & slimline). Q.series X measurement module front plates, connectors, and I/O cards are interchangeable between bloxx, brixx, and raxx (3U), so you can always adapt your system's housing with minimal investment.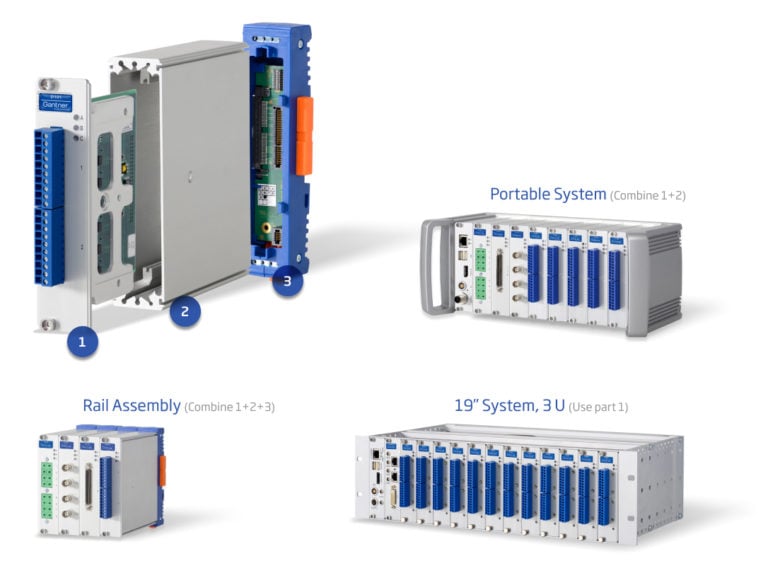 Distributed DIN rail assembly can be installed close to the measurement point while remaining connected to the controller. This reduces cable clutter and is user-friendly. Also, measurements are less prone to noise due to short sensor cables.

Compact, rugged, and portable systems, are the ideal DAQ solution for on-the-go applications requiring high performance in potentially harsh environments.

19" 3U, high-density, multi-channel measuring systems for efficient distribution of DAQ with high-precision synchronization and ideal for gradual expansion up to thousands of channels.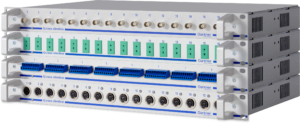 19" 1U, high-density, up to 16 universal measuring inputs for voltage, current, Pt100, or strain gage, 16 thermocouple amplifiers, and carrier frequency amplifiers with 8 or 64 digital inputs or outputs.
Want an easy way to explore Q.series X products?
DAQ SERIES
DAQ Interface
Form Factor