Sounds easier as it actually is? You are 100% right, because integration of advanced technology into existing systems can be tricky.
Here is some advice on what you should consider when choosing advanced test and measurement technology for integration and what makes it a lot easier.
1. Connectivity
Look for solutions with open interfaces for easy integration with EtherCAT, Modbus, OPC UA, MQTT, Python, and 3rd party software such as LabVIEW for quick data access. You likely already use proprietary test cell control and test management software and don't want additional software to manage and support. GI.bench is a modular software suite of smart subsystems that helps to address data acquisition (DAQ) disciplines as needed. It can manage your DAQ application as a stand-alone visualization, configuration, and data management tool. You can also select services for configuration and data acquisition and use the open APIs to connect the system to your existing software and visualization platform.
With Gantner's GI.bench data processing service, your software solutions can benefit from Gantner's advanced data handling by accessing continuous, triggered, and post-processed data streams via open API interfaces. Even the potentially complicated process of configuring advanced analog or arithmetic channel settings can be performed through XML-RPC protocols and Gantner's libraries. Configuration changes can directly be written to the I/O modules using 3rd party software.
2. Obsolescence Management
Integrate old equipment and regroup existing assets:
Keep your Legacy systems and use Gantner as a gateway to new DAQ to profit from all its unique benefits.
Drivers are available for use with existing interfaces, e.g., Modbus, for easy integration with legacy systems.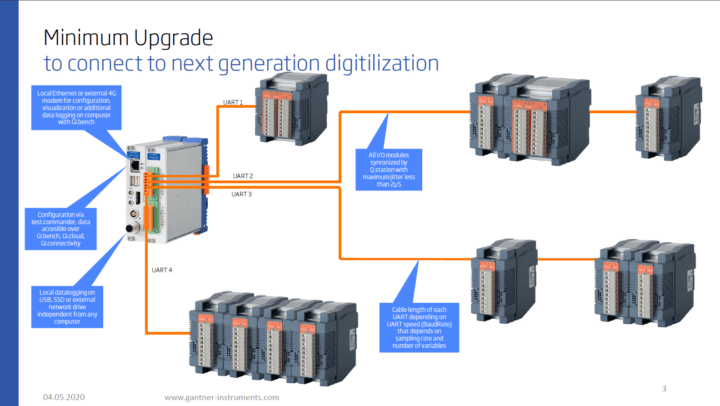 3. Legacy Hardware Support and a Migration Path Forward
A significant benefit if you are already a Gantner Instruments' customer is the possibility of integrating new versions of our hardware with older versions (backward compatible) and existing 3rd party (legacy) data acquisition systems. Gantner's data stream processing platform exchanges all relevant data with the desired test software if synchronized through a Gantner controller.
4. Flexible Fieldbus Technologies
Gantner supports all standard Fieldbus technologies (e.g., PROFINET, EtherCAT, CAN, Ethernet TCP/IP) and has established a uniquely flexible technology platform. All Gantner I/O can either communicate via a local bus technology (common UART TxRx) or as EtherCAT Slaves to an EtherCAT master.
One Hardware – Two Field Bus technologies. This unique capability enables Gantner systems to easily integrate into existing communication platforms, further preserving your ability to configure and visualize with your existing software.


5. Adaptable Form Factors
Gantner supports all standard form factors, including DIN-Rail (Q.bloxx) and 19" racks (Q.raxx), but also has a rugged portable version (Q.brixx). For harsh environments, we offer an IP67 qualified form factor (Q.staxx) and customized solutions, e.g., control cabinets and pelican cases.
Gantner I/O cards are interchangeable between form factors. With Gantner, you can be sure that your hardware investment is preserved and future adaptations are as cost effective as possible.

6. Modularity
The key to achieving an optimal cost to performance ratio in testing is modularity. A modular approach to your test equipment offers you ultimate scalability and flexibility. Maintaining a hardware and software platform that is extendable with new technologies such as high-speed or fiber-optic measurement reduces your overall capital investment. Gantner products are modular solutions that will extend equipment life and lower maintenance costs.
7. Electrification Ready
Future-proof I/O should have permanent galvanic isolation between each channel, the power supply, and the communication bus. For the emerging market of electrification, future-proofing requires high voltage isolation up to 1,200 VDC.
8. Edge Computing: Open and Programmable
The faster you measure, the higher the data volume that needs to be handled and turned into actionable insights. To monitor and respond to data in real-time, regardless of the data volume involved, computation needs to occur as close as possible to the data source to reduce time-to-insight and network traffic. Open platforms providing programmable features, e.g. intelligent logging and sophisticated algorithms, are essential.
For best results consider the following:
Perform computation and data storage closer to the point of measurement to improve response times and reduce data transfer bandwidth.
Run your own Apps on the Edge Device or program with our graphical programming language test.con
Monitor and respond to test data in real-time regardless of data volume; capture insights from the data you collect, when it happens thanks to open data stream and configuration interfaces
Post-process with machine learning approach or use established standard analytics like FFT, Rainflow model or RMS, etc. on our controllers; no PC necessary!
Reduce data transfer bandwidth to the MAX with the smallest data packages that can be transmitted over, e.g., modems.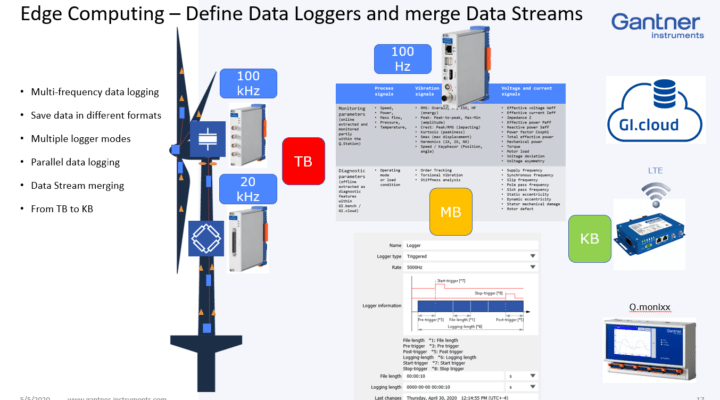 9. Stream Processing Platform
In a world of increasingly complex products and faster release cycles, the ability to accumulate and efficiently analyze test data has never been more critical.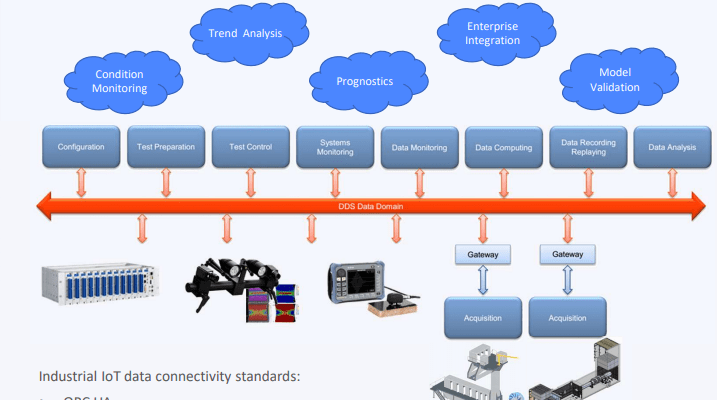 Aspects of smart test cells include:
Shifting from monolithic systems to an ecosystem of micro-services
Reliable edge node devices for Industry 4.0, big data, artificial intelligence, and machine learning
Real-time, fault-tolerant data stream processing for fast and efficient handling of test data with high-availability
Flexible data architectures to meet the unique needs of the user
Gantner enables smart test cell technology with:
Seamless integration and interoperability between distributed test & measurement systems
Local data processing, test analysis, and model validation to reduce total test time and improve overall test lab performance
Data correlation between design models and test results to support digital twin opportunities, e.g., for predictive maintenance and optimized turnaround-times
Gantner Instruments' open and scalable DAQ platforms enable flexible and easy to use partner solutions. By customizing our standard products to your specific needs and using our efficient connectivity technologies that allow ongoing product development, you will directly change your market outreach.
Find out how Gantner enabled a leading system integrator to develop a new product family.
Download our free case study to discover how to use Ganter Instruments' products to customize DAQ solutions.