Whether you are looking for a compact and portable DAQ solution for potentially harsh environments, or a measuring system for thousands of channels with high-precision synchronization, the new Q.series X delivers. For less cable clutter and sensitivity to noise, you can install all DAQ modules close to the point of measurement and connect them to the controller, which will make your work remarkably easier.
To give you a quick insight, we have picked three of the top feature highlights of the X series for a closer look.
The Module Superstars: A141 Charge Amplifier and Multipurpose High Isolation I/O
Q.series X offers a wide range of modules for measuring just the parameters you need. From dedicated modules to multipurpose modules with inputs for almost all sensors or products out of the high isolation family – they can all be easily combined and extended. Your needs in measurement and testing might be flexible and so is the new Q.series X. But let's take a look at one of the superstars of the neXt generation in data acquisition, the A141 charge amplifier.
Depending on the charge signal to be measured, you can choose between two modes for either fast transient and pulsating signals or almost static ones. Every time you are facing a very broad measurement range, A141 might just be the perfect choice. Use it for your measuring challenges with accelerometer, force, or pressure sensors. Don't worry about drift or noise, both are very low and even the price will put a smile on your face.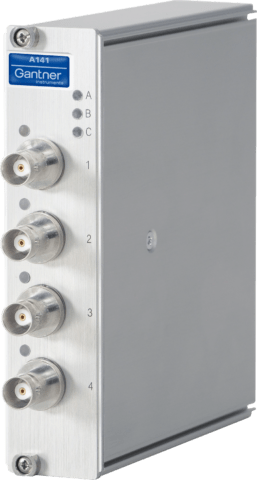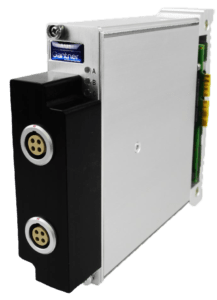 What if you need an I/O product with both high isolation and multipurpose inputs? Look no further, you just found the A121. Like all our products with high voltage and high isolation, It comes with the isolation voltage of 1200 VDC / 858 VAC permanent, but it also offers two inputs for several purposes. This combination makes the Q.series X module A121 truly unique.
Integrate the Q.series X into industrial applications for unlimited use
PROFINET, short for Process Field Network, is 100% Industrial Ethernet and was built to enable open standard automation solutions. You can use it for any system integration, and if we say any system, we mean any system. Based on proven IT standards, PROFINET offers full TCP/IP capability for enterprise-wide data-transfers at all levels. It also comes with integrated diagnostics and failsafe communications to make sure your system stays up and running. And there is one more advantage, that will put a hold on long transition periods and costs: you can easily change from your existing PROFIBUS solution to PROFINET.
PROFINET is the manufacturer-independent solution with open standard that allows you to be prepared for all the new challenges of the Industry 4.0.
Can you integrate new communication standards such as OPC UA (Open Platform Communications Unified Architecture)? Yes, you can! Can you combine IT and production networks? Yes you can! Can you combine it with the next big thing TSN (Time-Sensitive Network) and take advantage of the push it brings to PROFINET and OPC UA? Yes, you can!
Mega-Hertz-Systems will be solving your future problems
Also new to the GI Q.series X is the high speed module Q.boost A101 with 4 Mhz sampling rate. It is the most accurate amplifier you can find on the market with 24bit resolution and the lowest signal to noise ratio and is perfectly suited to measure signals from DC to 1.7MHz bandwidth, like EV inverters. A real boost for your DAQ challenges! Are you testing electrical engines in the automotive industry, like measuring efficiency in E-drives, then you will profit of the Q.boost.
It can be fully integrated into the X-series and connected to GI.data so you have a full solution at your hands.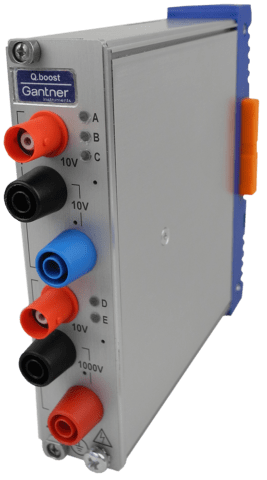 Xtend your performance with the Xtended Q.series Edition
No matter whether you are already using the Q.series Classic Edition or if you are new to the best price for best performance solutions, that Gantner Instruments is offering, the new Q.series X will convince you with its flexibility, power and user friendliness. We put together our long-standing experience in data acquisition solutions, the latest technologies and precious customer feedback and created the new Q.series X to fit your individual needs.
How will you use the Q.series X in your daily challenges? We are looking forward to hear from you about your experience or needs. For more information and specific technical details or contact, visit our dedicated website and let us know how we can help you with your individual DAQ solution.
For more informations about our products, visit the product finder!