We are thrilled to announce the launch of the new Gantner Instruments
website and introduce you to a few of its features.
Here's a sneak peek of what you can expect to find.
"Intuitive Data Acquisition Solutions for Modern Testing and Monitoring Applications" reflects our commitment to providing data acquisition solutions with the best performance, adaptability, and user quality of life from concept to commissioning. This commitment also extends to always improving our customers' user experience on our website."

Design
Our new website has been designed with our customers in mind, featuring a clean, intuitive, and easy-to-navigate layout for efficient access to the information you need. Restructuring our website intelligently allows you to find the ideal solution quickly and easily, accelerating your success.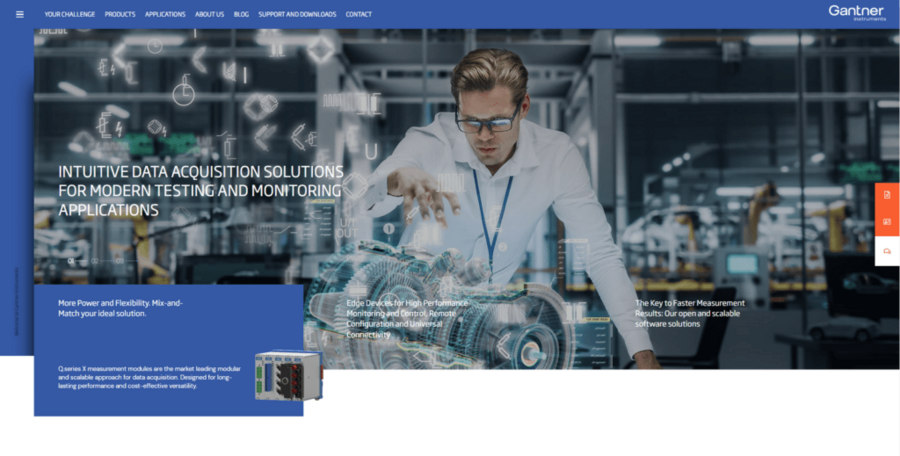 Your Challenge
Our products can be used in a variety of different applications and can help to solve challenging problems across a range of industries. The new website's section "Your Challenge" section provides comprehensive information and resources related to various applications, making it easier to find the right solutions to tackle any challenge you might be facing. By exploring the following "Your Challenge" web pages, you can better understand how our DAQ products can be used for your specific needs. The initial release of our website will cover challenges related to Strain Measurement, Vibration Measurement, Electric Vehicle and Battery Testing, Remote and Distributed Monitoring, and Real-Time Data Processing and Control, with more being added in future updates.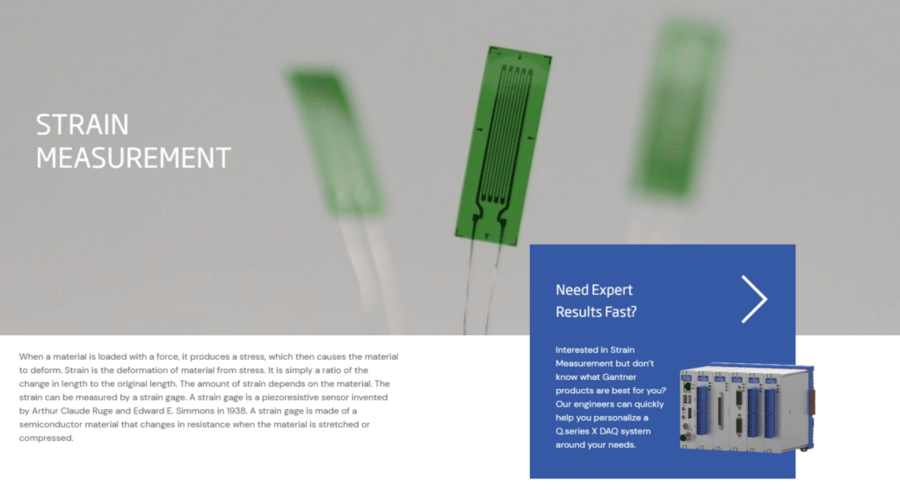 Application Examples
Towards the bottom of each Challenge and application page, you will find another new feature, "Application Examples." This section is designed to provide real-world examples of the wide range of industries and settings you can find our products and solutions. Upon downloading Application Examples, additional relevant Application Examples (AE) become available when visiting our site again in the future. This section is valuable for customers looking to see how they can use our products in applications and industries similar to theirs, referencing those who have successfully implemented our products in their specific fields, including Mobility, Aerospace, Energy, Civil Engineering, and Research.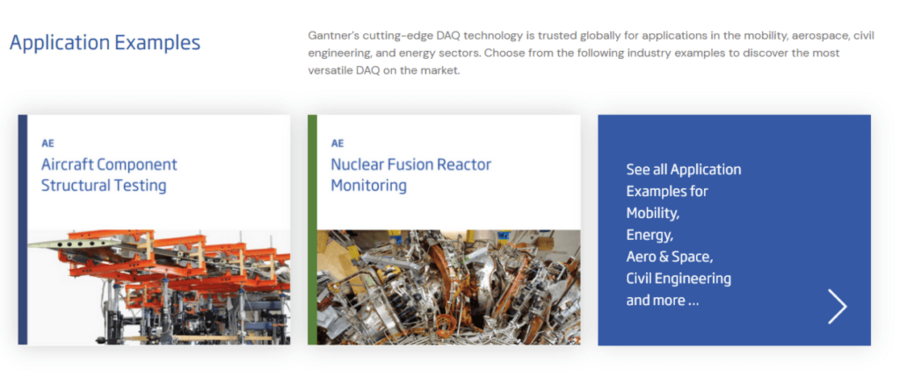 GI.ProductFinder
Finding Gantner Instruments products is easier than ever before.
The "Product Finder" is a powerful tool that allows customers to easily access detailed product information, specifications, and resources for our data acquisition (DAQ) modules, controllers, accessories, and software. You can quickly and easily find the right product for your specific application and needs by adding filters for product series, controller interface, form factor, and measurement types. You can find GI.productfinder at the bottom of nearly every challenge and product webpage.
By using "+ADD TO INQUIRY," you can quickly create a request for our sales team.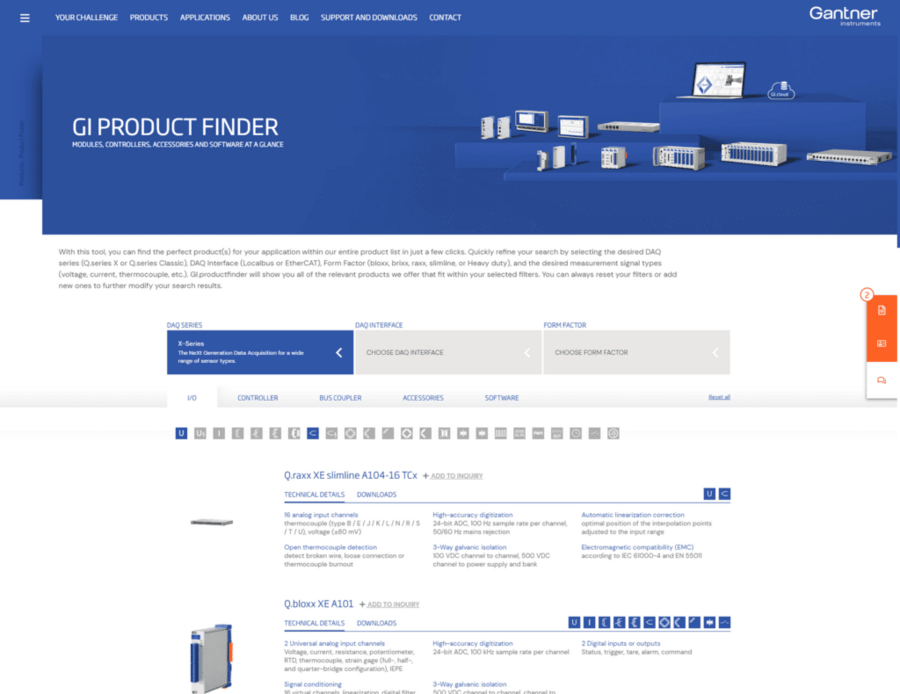 Products
Our website's "Products" section provides the information you need about our latest hardware, software, and services. There you can find our Q.series X and Q.series Classic range of products, including DAQ modules, Controllers, Accessories, and more. These product pages also feature subsections with relevant Application Examples to make it easy to demonstrate the product's capabilities.

Support and Downloads, GI.academy
In our Support and Downloads webpages, you will find all the necessary technical support information and downloads you need. You can also easily create support tickets, request more information, or talk to an expert if you have any questions.
Our brand-new "GI.academy" features our information-packed GI.knowledgebase, How-To-Videos, Webinars, Training, a refreshed Glossary of Terms, and an extensive Sensors Explained page.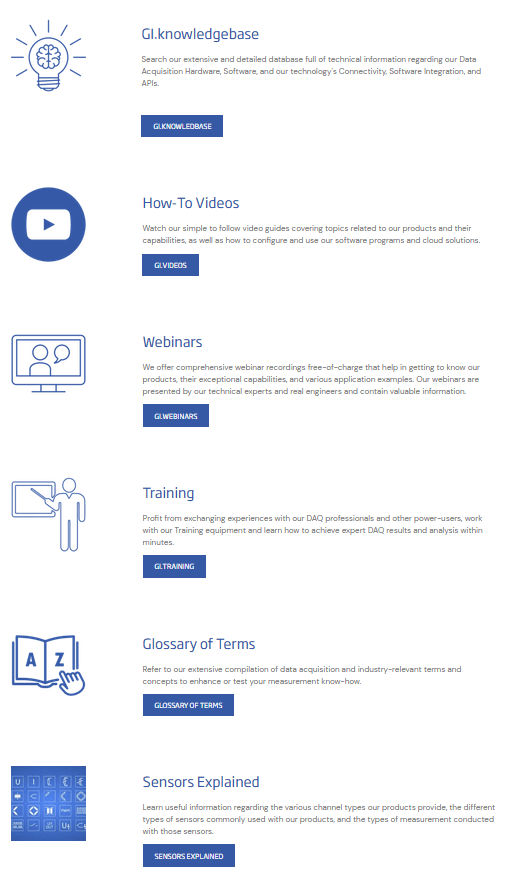 Your ideas, wishes, and Feedback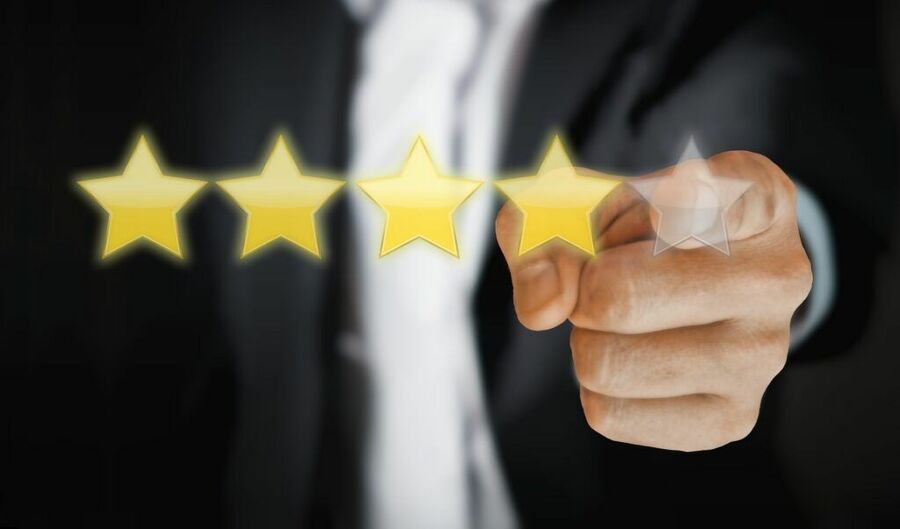 We will continuously update our website with more content and features in the coming weeks and months, so if you have any feedback or suggestions, please let us know! We would love to hear from you.
Our new website will give you a better understanding of our company, our products, and our commitment to providing you with the best possible experience. We invite you to visit and explore the many features and resources it has to offer. We are confident you will find everything you need to make an informed decision about your data acquisition needs.
Discover the Power of Modern Data Acquisition with Our Innovative Solutions
Visiting our DAQ Systems Overview webpage is a great way to learn more about our innovative solutions and their potential to revolutionize how you acquire, process, and use data.