---
Our dependence on safe infrastructure, such as bridges and roads, is growing due to the increasing complexity and interconnectedness of our society and economy, amongst other factors. Aging infrastructure requires high maintenance and replacement costs. With urbanization and population growth, the demands on these infrastructures are increasing. They are also potential targets for threats, underscoring the need for their security and reliability.
Bridges play an essential role in road traffic. They connect cities and towns and are used in a variety of ways. Advanced bridge monitoring is becoming increasingly essential to ensure that bridges can withstand the demands placed on them and respond to potential damage or deterioration at an early stage.
Bridges are subject to continuous loads from traffic, environmental influences, or natural events such as earthquakes. Effective bridge monitoring can identify potential problems early and take action to ensure bridge safety and prevent major damage. A comprehensive monitoring system helps engineers and bridge operators understand bridges' structural integrity, load limits, and service life. It is often necessary to install bridge monitoring after the fact. There are many challenges to overcome.
Typical challenges :
Poor access to measurement and inspection points:
A common problem is structural conditions such as poor accessibility of coupling joints, supporting cables, or cracks. Complex and long cable routes to connect all sensors centrally are also part of this problem. This is where a decentralized measurement system comes into its own. For this purpose, a bus cable has to be laid via which communication takes place, and individual measuring modules are supplied with power. With the Q.series X measuring modules, the necessary robustness under difficult conditions such as electrified railroad lines is also provided, thanks to the built-in galvanic isolation. Combined with the controller Q.station, perfect timing of the signals among each other over long distances is no problem. For very complex installations, wireless solutions are an interesting alternative to transmit data in the kHz range over long distances. With just a few clicks, wireless sensors can be integrated as an app, and measurement data acquisition and transmission via radio are reliably solved.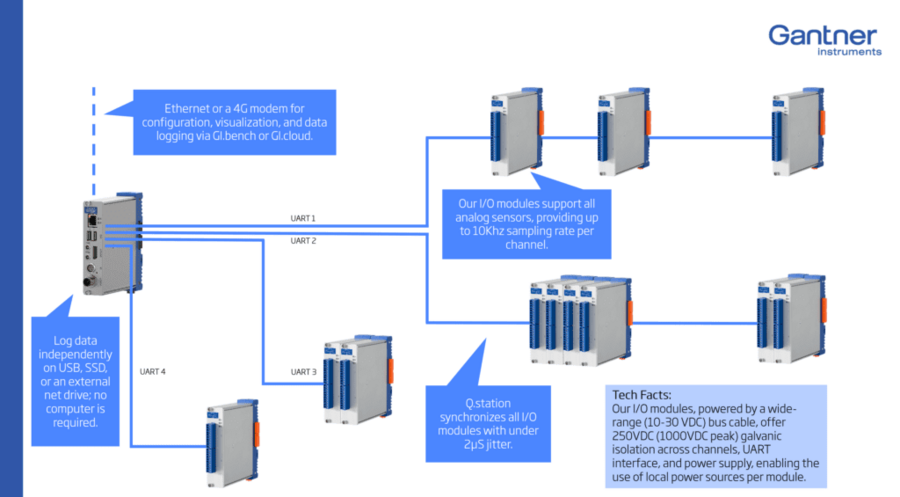 No power connection available for the sensors and data acquisition
A challenging situation is when power connections for sensors and data acquisition are unavailable.
Installing the measurement technology as a so-called off-grid solution is recommended. In this case, a battery storage unit is installed in the master control cabinet and charged via a solar panel. Depending on the location and design of the system, measurement data can also be stored for longer periods in winter. A similar solution – but on a much smaller scale – can be used for wireless sensors. This is because the benefit is limited if the battery has to be changed regularly in places that are difficult to access.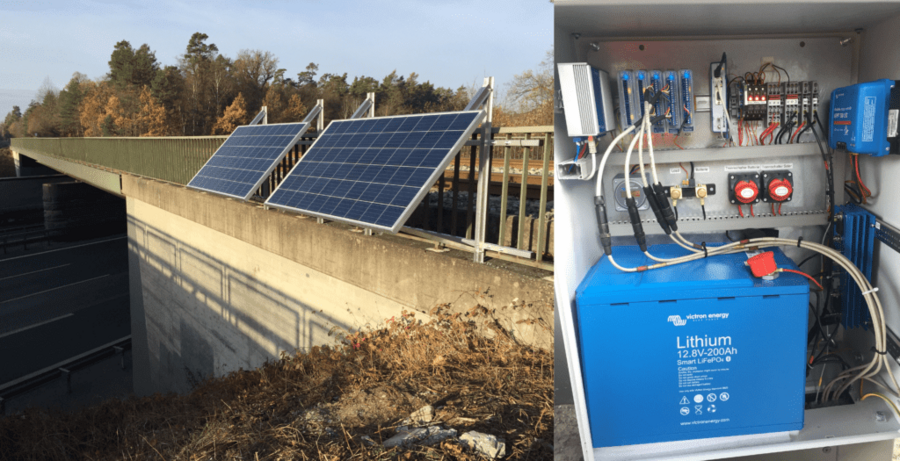 ---
Restricted mobile connection
Remote monitoring means no one is on-site, and the measurement data should be monitored and analyzed from the office or control center. A good mobile phone connection is essential for this. But even the best connection can be interrupted once, so the controller stores all measurement data centrally and stores it in the cloud. As soon as the connection is re-established, all measurement data is automatically transferred to the cloud again, completely without user intervention and without data loss.
Triggered data loggers are available, so only a little measurement data must be stored and transmitted, even for dynamic measurement tasks. Up to 20 individual data loggers can be set on each controller, which, for example, with a pre- and post-trigger, only store measurement data at, e.g., 2kHz when a truck or train passes the bridge. During this time, e.g., only statistical values like min, max, avg, and rms are transmitted. This keeps the data volume small, the budget stays within limits, and only meaningful events are available for downstream evaluation.
Effective analysis and simple visualization
Effective analysis and simple visualization of the collected data are other important challenges in bridge monitoring. It is necessary that the data can be displayed on the screen in real-time without delay, regardless of the viewer's location. This requires reliable and fast data transmission as well as powerful browser-based dashboards.
In addition, the collected data must be evaluated using intelligent analysis algorithms to gain relevant information and insights. These algorithms should be able to continuously check the data and send immediate alarms to the customer when characteristic parameters are exceeded. This way, potential hazards or deviations from critical values can be detected early, and appropriate measures can be taken. Developing such analysis and alarm functions is a technical challenge to ensure the effective use of the collected data and to create added value for the customer. The easy integration of algorithms via Python, Jupyter Lab, … allow a fast and target-oriented realization of the project goals.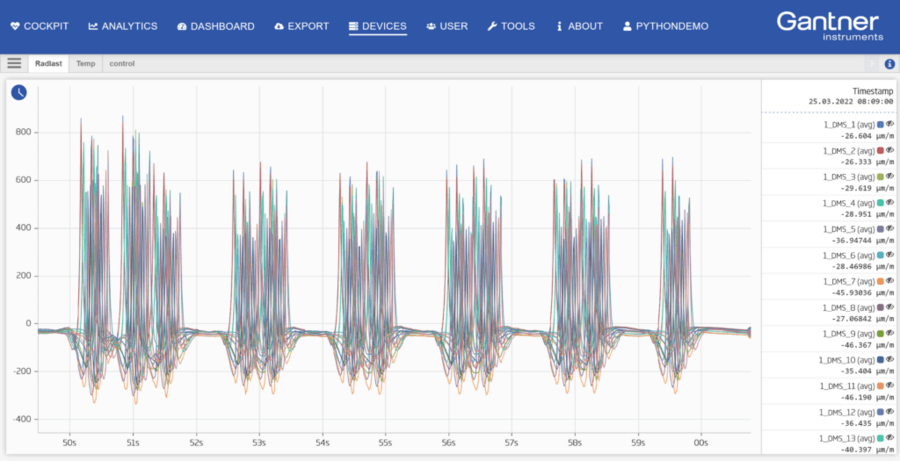 ---
Discuss your next project with our experienced metrology experts
Bridge monitoring with hardware and software from Gantner Instruments offers a comprehensive and reliable method to ensure the safety and integrity of bridges. Through proven solutions consisting of stand-alone data acquisition systems, high-quality sensors such as those from i4M or Messotron, and advanced data analytics, Gantner Instruments provides highly accurate information for effective monitoring and timely response to potential infrastructure issues. This enables the extension to use the bridges even in borderline static load safely. High quality and innovation make Gantner Instruments a reliable partner for bridge operators and engineers worldwide.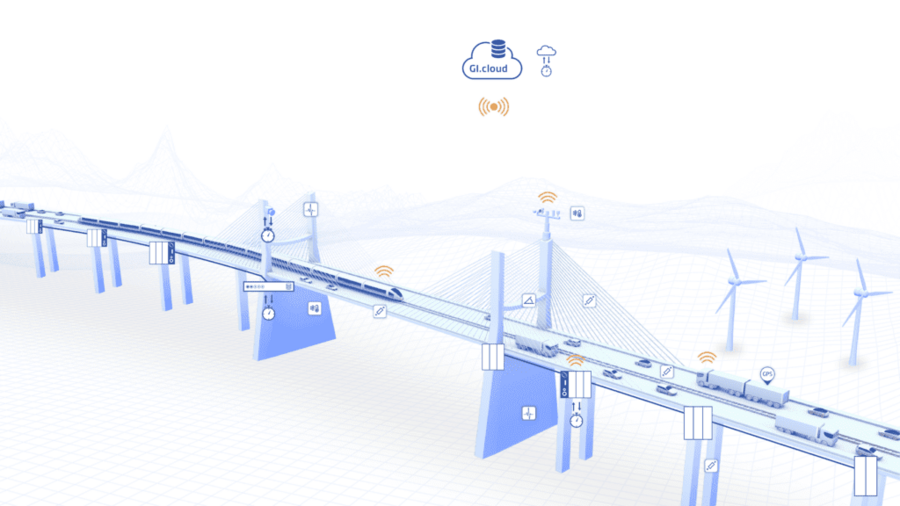 ---
Discover our Civil Case Studies