A Bright Future: Real-time control of regenerative smart grids
We are entering an era whereby the energy focus is to improve PV performance and accelerate its advancement with new developments that facilitate fully dispatchable generation with storage. An industrial requirement is created for advanced, robust, and cost-effective system monitoring and control, as highlighted by the Solar Europe Industry Initiative (SEII) for enabling the transition towards a renewable grid. Future grids will include a large share of distributed and fluctuating renewable energy sources and are digitally enhanced to enable the necessary observability and control of underlying distributed energy resource assets.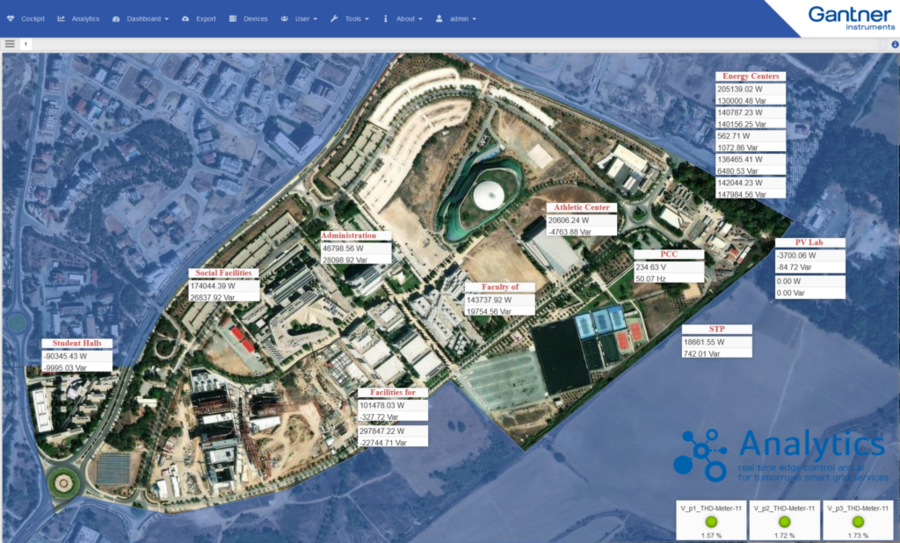 In response to this future demand, the University of Cyprus (UCY) launched a project, with the help of Gantner Instruments, a global leader in distributed data acquisition, to more optimally and intelligently manage electricity consumption and power generation, especially within local grids with a high proportion of renewable energies. The objective was to develop an advanced system monitoring and analytics solution enhanced with intelligent interoperable data-driven features for efficient big data real-time analysis, failure diagnosis, automated management, and integrated micro-grid control.
Constant data collection is essential to intelligent control. Modern control technology makes it possible to execute controls faster and faster, whereby the use of smart grids can be further and further optimized. The long-term vision of the research project is to develop a complete solution for new energy projects, the operation of photovoltaic systems, and the monitoring of the infrastructure. The ultimate goal is the perfect real-time control of a regenerative smart grid.
That is why researchers at UCY partnered with Gantner Instruments to increase the value and competence of wind, solar, and energy storage by developing a next-generation multi-service monitoring and control system that:
Increases overall system efficiency,
Decreases investment cost with optimal performance,
Provides communicative smart grid control services.
A partnership that delivers best-in-class solutions
Gantner Instruments and Crate.io partnered to deliver the data indexing solution.
Gantner relied on the expertise of Crate.io to analyze the amount of data generated by the project in real time and to improve the processes through machine learning (ML). Crate.io is the developer of CrateDB, a world-leading multi-modal database that makes data analysis at scale incredibly easy.
UCY's smart grid management is optimized consistently through artificial intelligence (AI) to achieve ideal values. The project aims to demonstrate renewable energies as a controllable solution in a power grid where data should be recorded quickly and synchronously so that the network can be optimally controlled. Frequent and immediate access to "hot data," i.e., data that clients must quickly access frequently is essential for real-time processes.
With Crate.io's scalable and distributed cloud technologies, data is hot at all times and can therefore be captured and processed quickly. With the help of CrateDB, large amounts of data are available in microseconds at the frontend. Using CrateDB as an index, Gantner and UCY's groundbreaking research project can ensure instant time series analysis with unlimited scalability.
More information can be found on our project page.
Find this topic interesting? Join our free webinar, which dives deeper into how Gantner leveraged the technological strengths of Apache Kafka for data streaming and the robust architecture of CrateDB to develop an advanced system monitoring and analytics solution with a focus on smart grids and renewable energy.