As we transition into an era where wind and solar PV (Photovoltaic) electricity generation has begun to outpace fossil fuels, the ambition for a fully renewable-powered future looms closer than ever. However, achieving a reliable supply throughout the year, especially during winter, remains a significant challenge.
Switzerland has proactively addressed this issue, identifying the need for a reliable supply during winter months as a high priority. With nuclear reactor shutdowns leading to imports of around 10 TWh during winter, approximately 30% of the country's energy consumption in 2035, the solution lies in harnessing solar power at altitudes above 1500 m above sea level to fill the energy gap.
As the energy shortfall is significantly higher during winter, Alpine PV power plants are gaining prominence due to their potential to provide 50% of their energy generation during these crucial months. The key to unlocking this potential lies in understanding and optimizing the electricity generation pattern of Alpine PV power plants. The first step in this process involves rigorous testing before investing in constructing large-scale PV infrastructure in the Alps.
Key players committed to pioneering this development are the Consortium of Energia-Alpina, X-statik, Reech, and Gantner Instruments, the brains behind the promising SedrunSolar project.
The SedrunSolar project is an ambitious Alpine PV initiative, set to be established on an expansive land area of about 180,000m2, nestled between the existing avalanche protection structures of Scharinas and the Val Val – Cuolm Val chairlift in the Sedrun ski area. With ready access roads and a medium-voltage connection to the power grid, the project is designed with a capacity of approximately 17 MW, predicting an annual production of about 23 GWh.
To ensure the success of this project, a test installation is currently underway to gain insights into the construction and operation of the PV project. This test installation will play a crucial role in gathering valuable data during the upcoming summer and winter months, aiding the development of power yield modeling for sequentially arranged rows of module tables.
The insights gathered from this test installation will be used to inform and enhance the final design of the PV system. The construction of the test installation, the first of its kind in Switzerland, is an exciting preview of the facility's anticipated implementation.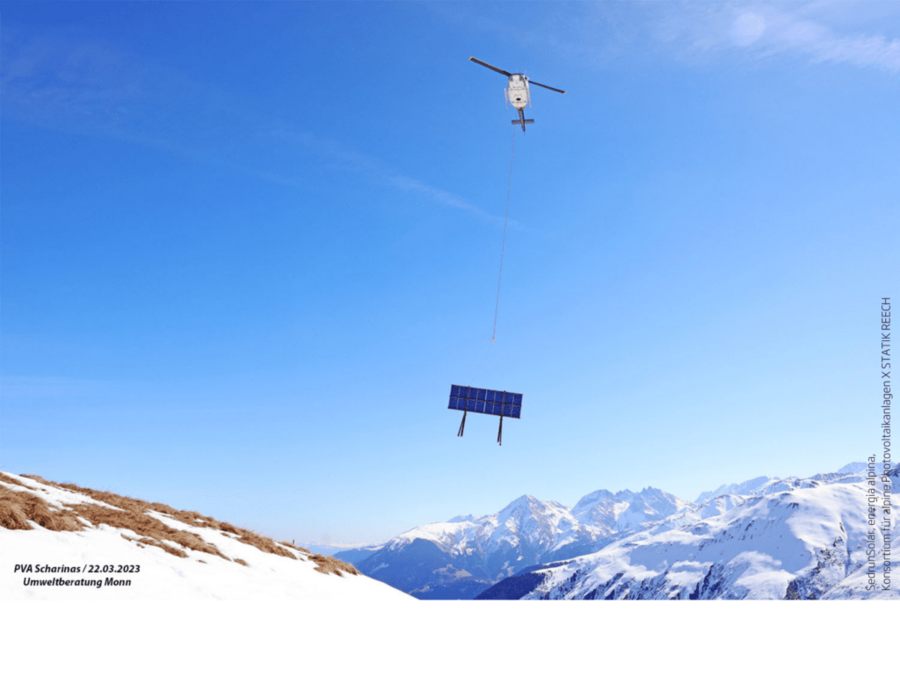 ---
Advanced Alpine PV Testing System
An advanced testing system that provides comprehensive insights into Alpine PV power plant designs has been installed, marking a significant milestone in the project.
Installed in February 2023, this Outdoor Test Facility evaluates PV resources and Alpine performance, measuring all solar and environmental parameters necessary for simulating and designing a MW PV power plant in the Swiss mountains.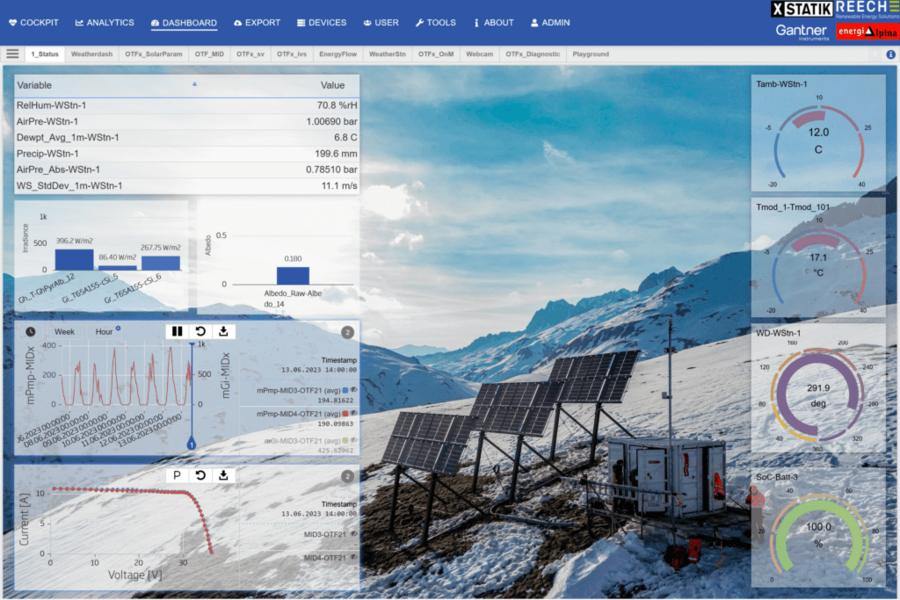 The system generates reliable data for PV performance modeling for high-altitude installations, particularly for bi-facial PV module technologies and reliable Albedo assumptions during periods of snow cover.
The performance of different (bi-facial) PV module designs is tested based on IVscans each minute, providing a reliable model of the behavior in this environment throughout the different seasons and mounting conditions. All weather and PV data acquired each second are perfect inputs for the Designers. It allows real-time and accurate energy yield comparisons as no data is averaged. All this is performed in the cloud-based solution. Even static designs are evaluated with vibration sensors.

The system is designed to withstand challenging weather conditions, capable of functioning as an off-grid system powered by PV modules with an autonomy of several days, which is vital as long periods of adverse weather and up to 4 meters of snow are to be expected.
Additionally, a webcam provides live streams and event detection to monitor animal activity (e.g., cows during the day, rabbits and bears at night) or curious visitors. Understanding this behavior is essential for ensuring the safety and efficiency of the project.
The system offers full remote access to run new measurement campaign experiments or support the consortium.
---
As Gantner Instruments also specializes in utility-scale PV monitoring and control, we are excited to contribute to this cutting-edge alpine-proven system design for reliable Swiss PV generation.
Discover more about Utility Scale PV solutions from Gantner Instruments Environment Solutions.
Keen to learn more about the Alpine Solar testing projects? Check out our website for the latest news and updates regarding this project. Or, feel free to contact us directly to learn more about our involvement in the project and the latest developments.
Learn about how Gantner has empowered other players in PV Performance testing.
We are looking forward to see you at the next event: