In this blog post, we will provide easy-to-understand tips on effectively measuring the evolution of battery technology.
---
Before batteries are installed in EVs or other products, it's important to perform cycling and stress testing. Cycling tests involve repeatedly charging and discharging the battery to assess its performance, while stress testing checks the battery's response under extreme conditions, such as high temperatures or heavy loads. These tests help ensure optimal battery performance and should be done throughout the value chain, from the individual components to the complete battery pack. Central data logging and control of your climatic chamber, loads, and even cameras help you detect fast when performance losses occur or component breakage up to thermal runaways happen.

---
Why Choose Gantner Instruments for Battery Testing?
After understanding the importance of cycling and stress testing, upgrading infrastructure, and optimizing the Battery Management System (BMS), you might wonder which company can provide comprehensive battery testing solutions. Gantner Instruments offers cost-effective test and measurement solutions tailored for various industries, such as electric and hybrid vehicles, utility and renewable energy support, stationary power, portable electronics, medical tech, and telecommunications. Our commitment to assisting customers in transitioning to a sustainable future makes us an ideal choice for all your battery testing needs.

Comprehensive Battery Evaluation: Electrical, Thermal, and Mechanical Testing
With Gantner Instruments, you can access testing solutions that cover all development and qualification steps:
Charge/discharge cycle testing: Evaluate the battery's lifespan by assessing its performance after repeated charging and discharging cycles.
Battery model development: Determine and predict State of Charge (SoC) and State of Health (SoH), conduct constant discharge testing, and analyze charge/discharge rates and efficiency.
Safety (Abuse) testing: Simulate various environmental conditions and battery failure scenarios to identify the limits of safe battery operation.
Performance testing: Our experts customize testing programs to suit specific customer requirements, such as testing battery efficiency under different climatic conditions.
Environmental and thermal testing: Assess the quality and reliability of your battery by conducting tests for vibration, shock, EMC, thermal cycling, corrosion, dust, salt, and humidity.
Transport testing: Ensure safe transportation of batteries, modules, and cells by conducting tests that comply with United Nations requirements (UN 38.3).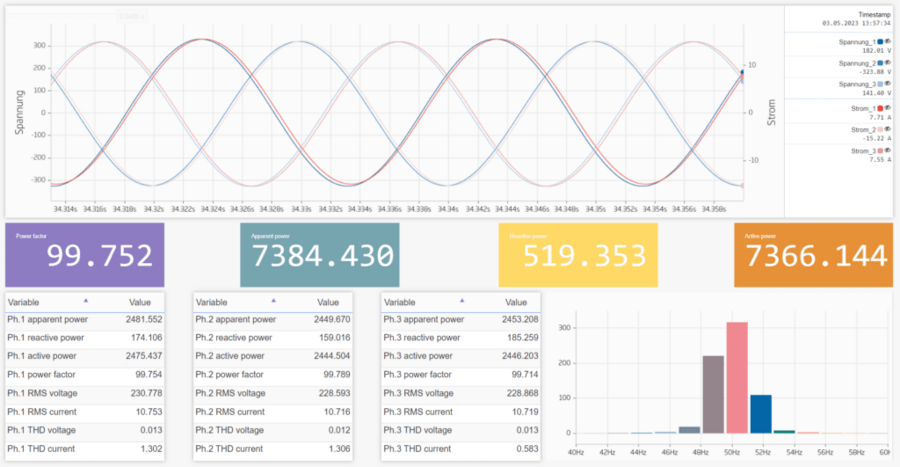 Learn More About Our EV and Battery Testing Solutions
Our high-voltage testing solutions, including the Q.series X DAQ system, ensure optimal performance and safety of electric vehicles and their components. Explore our range of services tailored for the rapid evolution of battery technology.
Electrochemical impedance spectroscopy (EIS) for Battery R&D and Production
Gantner Instruments also offers impedance spectroscopy, which analyzes capacity, cycling lifetime, shelf life, current carrying capacity, low-temperature performance, and impedance of materials synchronously with other measurements, such as temperature and strain gauges.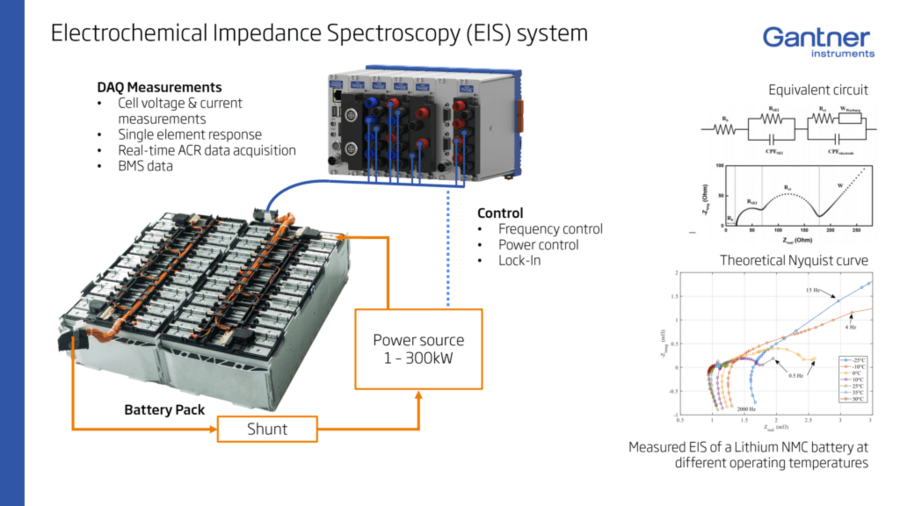 Adherence to Industry Standards
Numerous standards exist in battery testing to ensure safety and protect the battery from misuse. Test fields can range from the cell level to the module and up to the complete battery system. Typical test requirements include mechanical handling, vibration, shock, and electrical tests like short circuits or overvoltage.

Gantner Instruments is involved in numerous applications for ECE R38.3 (battery transport test), ECE R100 (tests for homologation for traction batteries), and ISO 12405 (performance tests on battery systems). Our flexible and highly accurate Q.series X system can measure and process voltages in the low-voltage range up to the high-voltage range ±1500V with our latest development, the A128 plus. Current can be measured with both shunts and current transducers (CT). To easily connect current transducers with secondary current output, we have designed our Q.raxx slimline A127-2CV.
Q.boost Power Analyzer is a top-of-the-line analog signal chain
Q.boost is the perfect tool to measure and analyze voltage and current signals in pulse-width modulated systems (e.g., electric drives). Boasting an impressive 4 MHz sampling rate per channel and 1.7 MHz bandwidth, the Q.boost Power Analyzer offers a noise floor below -140dB, 34dB better than the competition, and less than 3 ppm total harmonic distortion (100x better than any other device on the market). It includes four high-voltage input channels (up to +/-1500 VDC) and four inputs for current transducers (e.g., LEM IT, IN, LF series, or from Danisens). It has a built-in bipolar power supply system for current transducers (no other power supply system and wiring needed). Interfaces for current transducers with voltage output or for shunts are also available. The Q.boost power analyzer is available in two casing types: Portable and rugged solution with left and right handles called Q.brixx and a 19" Rack variant (4U).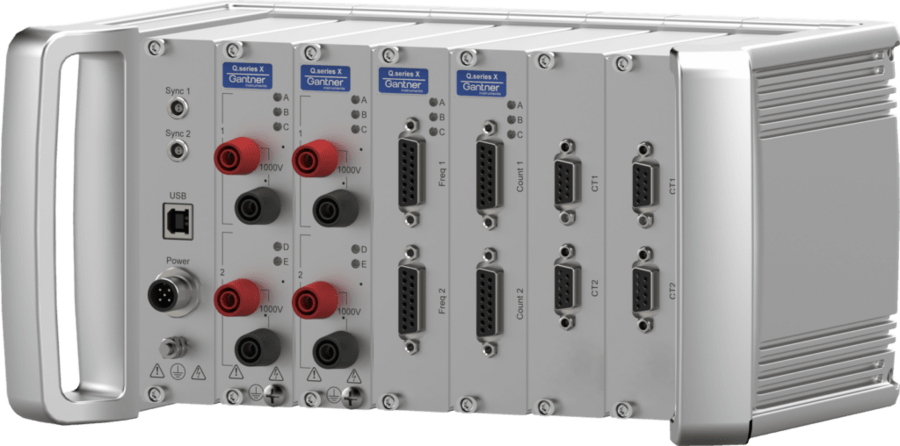 With the Q.boost power analyzer, many values like power, power factor, total-harmonic distortion (THD), and many more can be calculated with GI.bench on your Windows Computer or computer-independent on the Linux-based controller, Q.core. With the Q.core, the calculated values can be transmitted via CAN Bus to an automation System (EtherCAT Interface coming soon). The raw voltage and current values are always available and can be accessed by our open API.
For easy connection of torque sensors with frequency outputs, the system provides 2 inputs for frequency measurement. Speed sensors (Tachometer) can be connected to the two counter inputs.
---
More info?
Talk with our battery testing experts about realized Applications and your next project.
We are happy to work with you to find the ideal data acquisition solution for your requirements!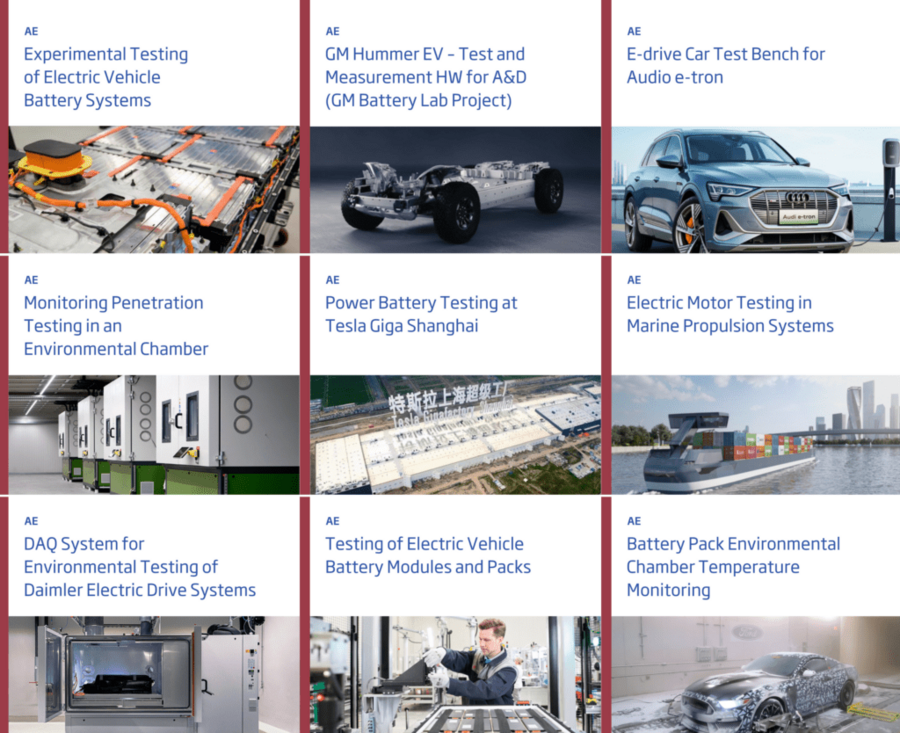 ---