Discover cutting-edge technologies, revolutionary techniques, and industry-leading services that are set to transform the aerospace industry at The Aerospace Test and Development Show 2023. Join us from 19-20 September 2023 in Toulouse, the European heart of aviation research and development, as we bring together manufacturers of aerospace components, complete aircraft, space exploration vessels, urban and interurban passenger drones and air defence systems for this international exhibition.
Get Hands-On with Our Revolutionary Products!
Are you seeking a compact and portable data acquisition system? Or a high-precision measurement solution with thousands of channels? Step right up and experience the thrill of interacting with our game-changing products! Join us at booth 332 to get up close and personal with our data solution's three essential building blocks. Prepare to be amazed as you get a hands-on feel for our fully operational devices.
Q.series X – Next Generation in Data Acquisition

Discover the future of data acquisition with Q.series X. This cutting-edge system provides unmatched precision for various sensors. Whether you need accurate measurements for a few or thousands of channels, Q.series X delivers exceptional performance, reliability, and flexibility.

GI.bench – The Key to Faster Measurement Results

Supercharge your measurement processes with GI.bench, our advanced data acquisition software. This state-of-the-art desktop application integrates system setup, configuration, data logging, and multi-stream monitoring into a user-friendly interface. Say farewell to complexity and embrace a streamlined experience that enables you to achieve faster measurement results
effortlessly.

GI.connectivity – Open and flexible interfaces

Experience the power of GI.connectivity, our integrated data exchange solution. It ensures reliable interoperability with secure interfaces at the controller, PC, and cloud levels. Transform your Q.series X system into the most versatile data acquisition platform. Discover effortless data exchange and unlock new possibilities for your applications.
Take advantage of our Aerospace Testing expertise!
At this prestigious event, Gantner Instruments will be at the forefront, proudly showcasing our state-of-the-art test and measurement technology. Aircraft testing necessitates precise recording, displaying, and processing of numerous parameters, ranging from temperatures, and pressures to strain and vibrations. Our data acquisition system, the Q.series X, is designed to meet this demanding challenge with real-time sample rates ranging from 10 Hz to several kHz. Renowned for its unmatched accuracy, flexibility, and reliability, the Q.series X has become the go-to choice for leading aircraft manufacturers and aerospace test facilities worldwide.
Take advantage of the opportunity to explore the future of aerospace testing. Visit booth 332 at the exhibition, where our team of experts will be available to discuss your specific needs and demonstrate the capabilities of our innovative data acquisition systems.
Register Here for Your Free Exhibition Pass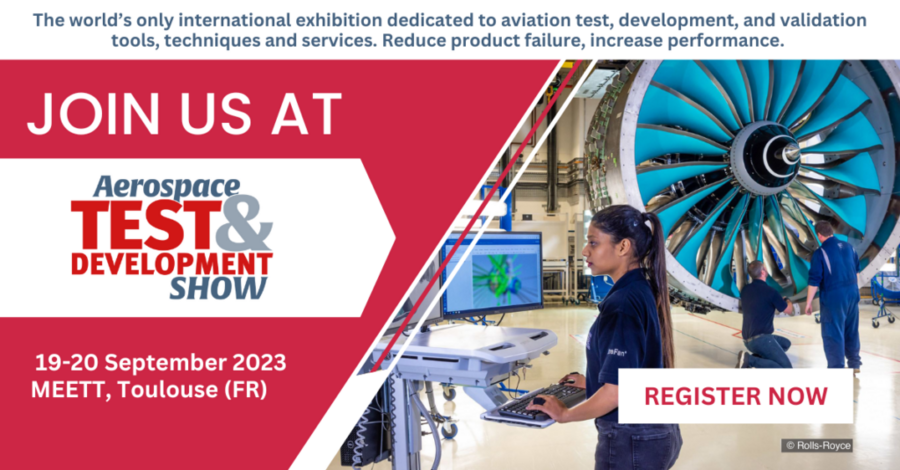 ---
Connect with a Measurement Expert
Looking to deepen your understanding of our advanced DAQ solutions? We're offering a unique opportunity to book a personal meeting with one of our measurement experts. Whether you need guidance on an upcoming project or have specific inquiries, our team is ready to assist.
You can meet with us virtually or at the Aerospace Test & Development Show 2023, at booth 332. Take this chance to expand your knowledge and discover how our solutions can benefit your business.