Strain Measurement - Solving the tough problems of strain gage measurement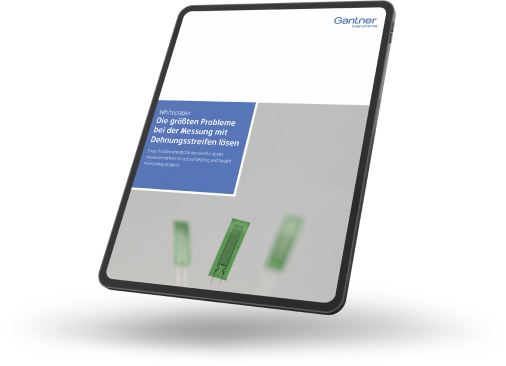 When testing the structural durability and fatigue of a specimen or structure (large or small), it is important to understand the fundamental variables that can interfere with the readings. Also, a confidence level must be established so that a test does not have to be repeated.
In this whitepaper you will learn more about
how and why strain gages are currently used in the world of structural testing and condition monitoring in all applications.
the technological improvements that can give highly reliable, precise data that can be used to determine fatigue and failure conditions.
the theory that allows strain gages to become precise and repeatable measurement sensors.
We will also review many problems such as ambient noise, long cable runs, and temperature effects on strain gauges and provide you with solutions.
For further technical info on the use of strain gages for structural test & health monitoring applications and problem solving when making measurements, download the free whitepaper.
Das Angebot von Gantner Instrument und die dazugehörigen Unterlagen
haben
den Standard für unsere Erwartungen gesetzt.
Gantner Instrument's quote and supporting documentation
have
set the standard for what we expect.
We appreciated Gantner's quick response and support in developing the solution for our application.
Thank you for working with us! With your help and technology, we were able to overhaul our previous DAQ systems with better measurement capabilities and OPC-UA and custom plugin functionality.
With the new Gantner solution, we will have the most modern, flexible, and accurate system to fulfill our needs. I want to congratulate Gantner Instruments for winning this project.
Johannes Eidnes, Product Manager, A&D
A&D uses GI.bench as their connectivity platform because it allows for quick and easy integration with Gantner's hardware and configuration tools, and offers additional programmable features that can offload work from their software.
DESY cherenkov telescope array (cta) Group
Gantner Instruments is a perfect partner with open access to all data we need. We can collect data without MS Windows!
Safran Helicopter Engines
With the Q.series, we have found a modular solution for our measurement technology needs. This allows us to use a common data acquisition system for Production and R&D. The wide range of modules available and the various
modules
that can be combined in one application allow us to always find a solution adapted to our needs.
GI measurement modules have proven successful, with smooth operation from signal acquisition to data storage for wind generator measurement systems. Gantner's decentralized design, durability, stability and quick commissioning times are key factors.
Gantner Instruments' international presence is crucial. Their modular measurement system enables communication with our test software, data exchange with SIEMENS automation via Profibus DP and its hardware is dependable and suitable for rough test bed conditions.
Mr. Erasto Maleche, ITER Organization, Tokamak Complex Division
Gantner provided excellent service, the Vacuum section of ITER organization successfully completed magnetic immunity testing using Gantner data acquisition. The local Gantner team provided valuable support from pre-purchase to on-site installation.